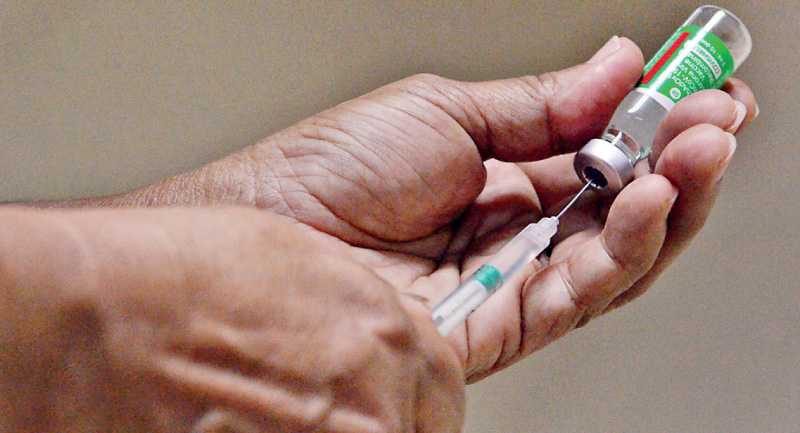 The pandemic could be the launching point for a massive acceleration in the pace of medical innovation – the COVID-19 genome was sequenced in a matter of weeks and the vaccine rolled out in less than a year. Necessity has created momentum, but the focus should be on the diverse range of capabilities—among them, bioengineering, genetic sequencing, computing, data analytics, automation, machine learning, and AI— that have come together – Pic by Shehan Gunasekara
---

COVID-19 has been challenging nations and businesses across the world for about a year. While a series of vaccines being delivered globally is cause for optimism, new variants of the virus recently identified have cast a shadow over any rosy predictions of a return to normal. Despite this uncertainty, 2021 will likely be a year of transition as Sri Lanka, along with other countries, prepares for what we see as the next normal: economies forever changed by the pandemic.

As public and private leaders work to combat the virus and mitigate the economic impact, they should also take time to envision the post-COVID future. In a report published in January, McKinsey looked at 13 global trends pushed by the pandemic that will define 2021 and beyond. Sri Lankan Government and corporate decision makers should consider these developments as they craft policies and rethink business models to lead and win in the next normal.


Leisure travel returns, while business travel lags

Leisure travel will witness a revival, while business travel will likely remain anaemic as companies become accustomed to virtual meetings. Tourism is vital to the Sri Lankan economy, and in January the government announced it would create a tourist bubble defined by strict measures in hopes of triggering an industry recovery.

After the 2008–09 financial crisis, global international business travel took five years to recover, compared with two years for international leisure travel. Sri Lanka can expect leisure travel to likely recover first as increased confidence in traveller safety releases latent demand to explore and enjoy new experiences. With the pandemic triggering greater familiarity with remote meetings and collaboration at a distance, the pressure to return to face-to-face meetings along with business travel could be dampened.


Entrepreneurship surges

While small businesses have suffered, the pandemic also sparked a wave of innovation and entrepreneurship. In the third quarter of 2020 alone, there were more than 1.5 million new-business applications in the United States—almost double the figure for the same period in 2019. France saw 84,000 new business formations in October, the highest ever recorded.

Many of these entrepreneurial initiatives focus on new and disruptive technologies, such as artificial intelligence and machine learning, and in areas deeply affected by the pandemic, there was an emergence of initiatives around remote work, online commerce, supply-chain security, and healthcare.


Manufacturing adopts new technologies

Productivity in the US in Q2-Q3 2020 had the largest six-month improvement since 1965. In the past, it has taken a decade or longer for game-changing technologies (e.g. Artificial intelligence, automation, machine learning) to evolve from novel ideas to productivity drivers. The COVID-19 crisis has sped up that transition in areas such as AI and digitisation by years, and even faster here in Asia.

A McKinsey survey published in October 2020 found that companies are three times likelier than they were before the crisis to conduct at least 80% of their customer interactions digitally. However, the near-term challenge for Sri Lankan companies is to move from reactionary measures to building and institutionalising the good that has been accelerated by the crisis.


Jump to digital commerce accelerates

Under lockdowns, consumers have been forced to go online in greater numbers, with markets that had hesitated to embrace e-commerce often showing the greatest gains. Germany, Romania, and Switzerland, for example, had the three lowest online-penetration rates prior to the COVID-19 crisis; since then, usage has increased 28, 25, and 18 percentage points, respectively—more than in any other markets.

The shift to e-commerce will be here to stay, Sri Lankan retailers who are looking to keep pace with this shift will need to rethink and retrain: capabilities, business and pricing models.


Latent consumer demand unleashed

As confidence returns, "revenge shopping" will sweep the aisles as pent-up demand is unleashes. Previous economic downturns saw a similar trend though this crisis has one marked difference – businesses with a communal element – restaurants and entertainment venues – will have a harder time bouncing back this time.

Consumer spending will only recover as fast as the rate at which people feel confident about becoming mobile again—and those attitudes differ markedly by country, based on the age of population, management of the virus and the vaccine rollout.


Greater concerns about supply chain resilience

As much as a quarter of global goods exports, or $4.5 trillion, could shift by 2025. Shortages and disruptions that accompanied the onset of the pandemic exposed vulnerabilities in global supply chains, and global and local public and private leaders are focused on building resilience.

Crucial insights from this new scrutiny were that disruptions weren't that unusual, with factories experiencing a month-long shutdown about every four years on average; cost differences between developing and developed countries are narrowing, driven by the adoption of new technologies; and most businesses are unfamiliar with the smaller companies deep in their supply chain, creating significant unseen risks. Sri Lankan companies must seriously consider their own supply chain optimisation in light of resilience as well as cost competitiveness.


The future of work is now

Changes in the workplace that were expected to require years have been hastened by the pandemic. The McKinsey Global Institute estimated that more than 20% of the workforce, mostly highly skilled workers in industries such as finance, insurance, and IT, can work largely outside the office without loss of value.

This transition will cause boards across the country to address two important challenges: the changing role of the office and upskilling the workforce to keep pace with the technological advancements spurred on by the pandemic.


Bio-tech innovation takes off

The pandemic could be the launching point for a massive acceleration in the pace of medical innovation – the COVID-19 genome was sequenced in a matter of weeks and the vaccine rolled out in less than a year. Necessity has created momentum, but the focus should be on the diverse range of capabilities—among them, bioengineering, genetic sequencing, computing, data analytics, automation, machine learning, and AI— that have come together.

Ripple effects of the Bio revolution extend far beyond the scope of health; according to MGI, as much as 60% of physical inputs – such as heat- or drought- resistant crops in agriculture to self-repairing fabrics in materials – to the global economy could theoretically be produced biologically. These applications fuelled by technology could potentially create trillions of dollars in economic impact over the next decade.


Rapid M&A and portfolio adjustments

Economic downturns have traditionally been a time for strong companies to acquire those weakened by the troubles, and with private equity firms holding about $1.5 trillion in unallocated money and fundraising remaining strong, mergers and acquisitions will likely pick up.


Emphasis on the environment

With recovery programs coinciding with increased concern about climate change, a greater emphasis on investing in green initiatives is expected. To cope with the 2008–09 financial crisis, there were substantial government stimulus programs, but few of them incorporated climate or environmental action. This time is different.

The European Union, plans to earmark about 30% of its $880 billion COVID-19 plan to measures related to climate change, similarly, the US President has pledged to invest $2 trillion as part of his recovery program to clean-energy initiatives in transportation, power, and construction.

Growth opportunities that a green economy portends could be substantial, with BlackRock, a global investment company noting in its 2021 Global Outlook that this tectonic shift will "enhance returns". Investing in green initiatives will allow Sri Lankan companies to not only limit their climate risks but obtain sizeable returns.


Healthcare reform acquires urgency

Caught unaware, governments will prioritise reforming their healthcare systems to prepare for any future pandemic or health crisis. Too often, investments in prevention and public-health capabilities are undervalued.

An upgrade of public-health infrastructure and the modernisation of healthcare systems, including the wider use of telemedicine and virtual health, are two areas Sri Lanka should consider addressing.


Governments begin confronting massive debt

In major developed countries alone more than $10 trillion has been pledged to fight the pandemic and its economic consequences. Growth and productivity should remain paramount as long-term solutions even as interim measures – such as improving government operations, monetising assets, and reducing fiscal leakages – are implemented.

The United States managed to reduce its national debt from 118% of GDP in 1946 to a low of 31% in 1981 as it prioritised the former. Sri Lankan leaders will need to approach the country's growth agenda with a new mindset: one of supportive regulation, well-trained workforces, and accelerated adoption of technologies.


Stakeholder capitalism promotes long-term view

Stakeholder capitalism is witnessing an increasing need for profit to be infused with a sense of purpose. MGI looked at 615 large- and mid-cap US publicly listed companies from 2001 to 2015, those with a long-term view—a core of stakeholder capitalism—outperformed their competitors in earnings, revenue, investment, and job growth. Creating long-term shareholder value extends far beyond the focus on shareholders alone.

Like all other countries, Sri Lanka's immediate priority is to mitigate the human and economic impact of the ongoing health crisis. But the country's leaders must also hold in mind a vision for the future, and understanding the trends that will shape 2021 and beyond will help build a stronger and more resilient nation.
---
(Ganaka Herath is the Managing Partner of McKinsey & Company's Colombo office, where Vidhya Ganesan is a Partner.)
---