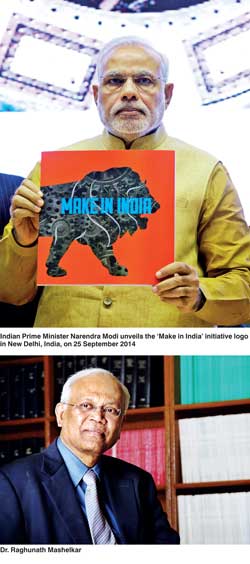 The start of a new year always offer an opportunity for some fresh thinking and among most an opportunity to have a new resolution. The progress of course will depend on one's commitment and only time will tell.

One thing is sure, we have had many a year passing through and millions must have done this process at the start but if one is to think that only wars, lies, deceptions signify the past year, we know that we have not stood by our principles. It is really refreshing to see the Pope when he addresses and I am referring to his comment over the assessment of 2017.

We have also witnessed that when we were having deficiencies – be it in fertiliser, tea, or petrol – the highest office had to intervene via appeals to similar offices elsewhere for help! At present we are also going nuts over coconut too. Not a sign of confidence that one can have on our systems – it is not only due to politics and cannot be singularly blamed for all ills. We may blame politics for a lot of things but I feel and understand now that many a problem are a product of our own inefficiencies and as such is not a fair excuse for all and sundry.

Innovative India

Why reinvent Sri Lanka? Here I take the story of our neighbouring India. Today you read in the news that the Indian economy in 2018 is poised to take the fifth place in global economies scale. This is India coming from way behind and perhaps many would not have ever placed a bet on this happening. Today the reality is what was one day unthinkable is now a possibility.

How did this happen? It reminds me of a presentation titled 'Dreaming India' given by one personality whom I admire very much. In fact reading his book on 'Reinventing India' gave me the idea for the title for today's column.

Dr. Raghunath Mashelkar once asked the question, "Can a country, which has so many deprived, so many people below the poverty line so many illiterates, really do it?" This was on 3 January 2000 when he addressed the 86th Indian Science Congress which was celebrating the new millennium.

In year 2000 India has had many successes but was still looked at as a third world country and no more. What a change a decade brought to India since 24 July 1991. Dr. Mashelkar identifies this day as the day India received its second freedom when Dr. Manmohan Singh announced the Industrial Policy (please note – the Industrial Policy!) that liberalised India. It is considered one of the most disruptive public policy innovations.

Yes, India did many things before this date such as Param 8000 (when the super computer was denied to India, they built their own,) White and Green revolutions had been ushered in ensuring that no more famine will hit India, and also becoming the world's largest milk producer. Today India is building advanced satellites to nuclear reactors with ease.

Yes, someone can say with Chandrayan 1 – the Indian moon mission – finding evidence of water on the moon while many millions may be having no decent access to water is an issue. Yes, it is easy to be critical in this manner though I think the failure there lies in the failure in connecting with understanding some dots rather than stopping efforts such as Chandrayan. India is showing its innovative prowess as well as resilience. As per Dr. Mashelkar, the 'I' in India must stand for Innovation!

Reinvent Sri Lanka by reinventing ourselves

With 2018 dawning on us we may wish each other happy new year and in Government offices we will spend the first day taking an oath to serve and serve well. I am mindful that this year is going to have unusually a larger number of long weekends (six, with 19 holidays falling within the week) and I shudder to think of the impact by this calendar on our efficiencies and productivities. I think the reader is enlightened enough to know why.

This may be a bountiful year with holidays for the nation and its fun-loving citizens but we must not forget the many issues that we are having can only be resolved with focus and hard commitment. We may lift the phone and call for help and this is becoming too frequent for our own comfort but having done very little to build up the resilience that perhaps is the only recourse. We have also been told about the significant debt burden that is going to come from this year and in dollar terms too. Hence this indeed has to be the year where we have to reinvent Sri Lanka by reinventing ourselves as challenges are a plenty. We are oblivious to many an issue that the climate front may have in store for us which really can add insult to injury.

When Dr. Mashelkar spoke, he was asking, "Can India go on just by working on import substitution and me-too products?" His pointed question was: "Are we going to be busy with reverse engineering and copy all our lives?" His answer was a clear "NO!" He was not advising to develop an India that followed but one which leads. Within two decades India is showing that it can.

One of his transformations, which had been captured in the 2003 publication 'Scientific Edge' by Jayant Narlika was the transformation of Indian Research organisation to an enterprise that was innovating and patent driven. Of course CSIR in India through their labs had demonstrated developments in ensuring programs such as 70% India's agrochemicals to be locally produced with CSIR technologies but this has been purely driven through policies which had been inward-looking. The transformation was to ensure the developments are world class and having developments that one sells globally.

Mashelkar speaks of his experience when one wants a laboratory piece of equipment for research, the need to have a certificate from the DG of Technical Development known as the 'not-manufactured in India certificate'.

One aspect however important to note is before and after July 1991 India has had an interest in manufacturing in India. What has changed had been the mindset for competitiveness with the global community. He indicated while the Indian minds were in the 21st century, mindsets were rooted in the past and this difference is dragging the nation down.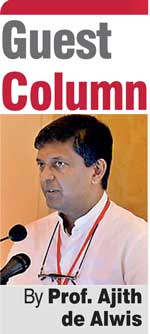 Sri Lankan mindset

It must be mentioned patents or not, manufacturing in Sri Lanka has never really been a priority among policymakers. We are always too quick to display realms of analysis indicating why we should not be doing anything in this country connected to manufacturing. Service mantra had been winning the hearts and minds of those who take and make decisions.

If we are not interested in some original thinking by ourselves, Reinventing India offers many an interesting idea to latch onto. They are the words of a small boy who survived smallpox (yes smallpox!), struggled to have two meals a day, went barefoot to school until he was 12 years old and studied under streetlights in Pune who went onto become one of India's most distinguished scientists, a visionary and a passionate leader.

He, having studied for the most time in India, also went on to be an engineer who was given membership in the Royal Society (FRS) – a rare feat for anyone and then also to be the first President from outside UK in the Institution of Chemical Engineers UK. He fought to defeat the US in exploiting traditional knowledge of India and laid the foundation to develop the Indian Traditional Knowledge Digital Laboratory as a compulsory search tool when patents are considered.

Sri Lanka, instead of learning from such approaches, traditionally laments over international conspiracies and eternally wishes to play the role of an aggrieved innocent party. Think of kothala himbutu and you may understand what I mean.

One feature of him is his optimism and something we really have to inculcate for us to overcome the obstacles and all the negativism that surfaces whenever an idea is mooted. He indicated India is a rich country with poor people and urged people to discover themselves of the treasures within. Our issue is we are poor country with very rich people and that is a different equation to energise.

As we step into 2018, India may be getting ready to don a different mantle while we are engulfed with our preconceived notions and limited thoughts and forever worried with cash flow with little or no attention to ideas as an asset to leverage.

Understand and execute

There is no question whatsoever that innovation today is recognised as a major source of competitiveness and economic growth for all countries. At times we use the words and concepts without the true understanding too. That is a pitfall we really have to avoid. Understand and execute we must.

Mashelkar championed inclusive innovation – more from less to more – and that has so much relevance in the present world where we have set ourselves the goals of sustainable development by 2030.

Let us move away from the traditional mindsets that we have and embrace the changes that are necessary at least in this year of 2018 – full of holidays and full of problems with some known and many unknowns. I cannot see rhetoric winning the year and only dedicated work will matter.