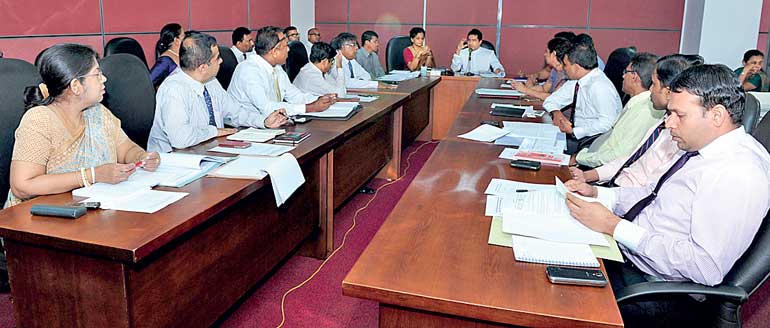 With the recent launch of WEDF 2016 to be held in Sri Lanka in October, the EDB has taken a bold step towards creating a true sense of the word of Public-Private Partnership.

Several leading professionals who have been invited from national chambers and product associations to steer various 'action groups' have been appointed to head six different committees tasked to map strategies and plan all aspects of arrangements to successfully hold the two-day conclave which is the 16th edition of the WEDF.

The committees are organised as: Event and Destination Management – Program and Local Speakers; Committee on Mini Exhibition, Local Participation mobilisation, B2B Program and Women's; Committee on Touristic Packages, Field Factory Visits, Visa and Protocol Arrangements and Conference Packs; Committee on Sponsorships; Committee on Publicity and Media; and Committee on Financial Arrangements .

Each of these committees is represented by a senior EDB official who will be the focal point for the respective subject committees. The private sector will drive these committees and in turn the EDB officers will implement the plans of the steering committee. In addition, senior officers of Board of Investment of Sri Lanka, Ministry of Foreign Affairs, Sri Lanka Tourism and the Department of Commerce are also working hand in hand with all chamber representatives in organising coordinated work plans based on given time targets and deliverables.

The main Steering committee is overseen by State Minister for International Trade Sujeewa Senasingha and EDB Chairperson Indira Malwatte. Two co-chairs have been appointed, EDB Additional Director General Jeevani Siriwardena and The Exporters Association of Sri Lanka Chairman Fazal Mushin to review the progress on all aspects, on a continuous basis, giving directions and clearances where necessary ensuring quick decision making process.

This engagement on PPP has been championed by the Minister of Development Strategies and International Trade Malik Samarawickrama, who has ensured a free hand for this committee to perform.

WEDF of International Trade Center, a Geneva-based UN body is a unique global conference and business to business (B2B) matchmaking platform dedicated to supporting trade-led development. More than 600 business delegates will participate making this event one of the largest business promotion events to be staged in Colombo. The Export Development Board (EDB) is the co-host of this program, while the International Trade Centre (ITC) providing all the support to stage this event .in Colombo in October this year.

In addition to the expected economic benefits of the WEDF it has open new vistas for effective private and public sector engagement in implementing nationally important events.