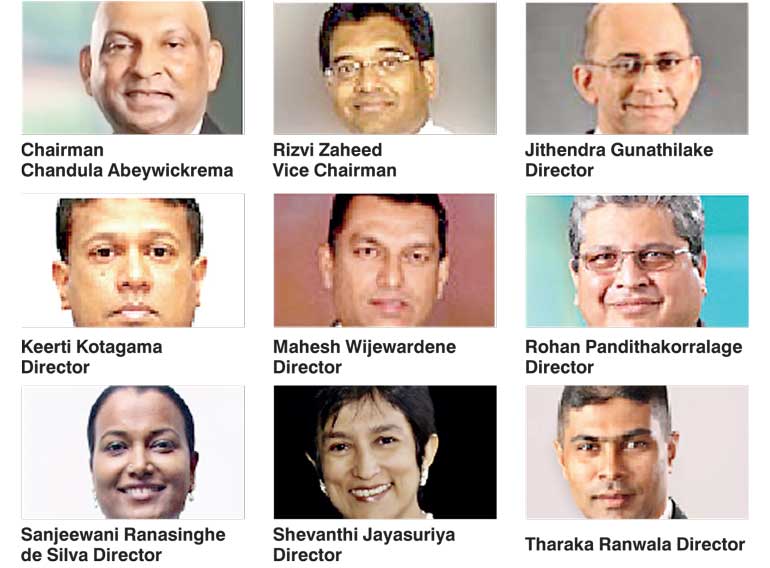 CSR Sri Lanka (CSR SL), an initiative pioneered collectively by a group of leading corporate sector companies in the country with the aim of providing strategic guidance and necessary resources to bridge the gap between ad hoc CSR projects and creating sustainable value, recently appointed three new directors to its Board. Sanjeewani Ranasinghe de Silva, Shevanthi Jayasuriya and Jithendra Gunathilake are the new directors, appointed unanimously at the AGM of CSR SL held in November.

Sanjeewani Ranasinghe de Silva is presently the Head, Corporate Affairs/Brand and Marketing at the Standard Chartered Bank. Having held the positions of Corporate Communications Manager, Social Reporting Manager and Regulatory Affairs Manager, De Silva possesses a wealth of experience in corporate affairs. After a 10-year stint at Ceylon Tobacco Company, she joined the Standard Chartered Bank in July 2011. She was previously the Head of PR at Q&E Advertising and the key news anchor of MTV News at Ten. She also holds an MBA from the University of Wales, UK.

Shevanthi Jayasuriya is the Country Director of Room to Read Sri Lanka. She has substantial experience of strategic programme advice through directing corporations and managing programs in both private and non-profit sectors. She also possesses managerial experience in working with a Sri Lankan NGO as the CEO and as the Chief of Party. Her experience extends from designing programs, resource mobilisation, donor liaison, monitoring and evaluation, administration, budget management to providing leadership to large scale development programs across all districts in Sri Lanka.

Prior to joining Room to Read SL, she served USAID's Accelerated Skills Acquisition Program as Chief of Party and has been the Head of Communications at the Peace Secretariat, Sri Lanka. She holds an MBA in Business Administration from the University of Hull, United Kingdom.

Jithendra Gunathilake is the Head of Finance Operations, at LOLC PLC. He is a Chartered Management Accountant (Fellow Member of Chartered Institute of Management Accountants UK) by profession and has over 20 years of managerial experience in finance and operational finance. He is a director of the Leasing Association of Sri Lanka and the Credit Information Bureau of Sri Lanka. He is also a council member of the Sri Lanka Institute of Credit Management and is a member of its Examination Sub-Committee. He also serves the Ceylon Chamber of Commerce as a committee member. Gunathilake holds professional qualifications in marketing from the Chartered Institute of Marketing (UK) and an MBA from the Postgraduate Institute of Management, University of Sri Jayewardenepura. He earned his BSc degree from the Faculty of Science, University of Colombo.

Announcing the news of the appointment of the new directors, Chandula Abeywickrema, Chairman of CSR Sri Lanka said, "With the three new additions, nine eminent personalities drawn from the corporate sector of the country are now ready to strongly steer CSR SL Director Board to drive and align the corporate sector towards more nationally relevant and transformative CSR engagements across the country".

He also added that the Board of CSR SL with firm conviction and commitment has set in motion a number of key programs to assist the private sector in building capacity on sustainable business engagement and practices. Policy advocacy, state-of-the art best practices, public private sector collaboration are to name a few.

CSR SL was formed in May, 2013 with encouragement from United States Agency for International Development (USAID). It supports corporates to change into more powerful, accountable, engaged and profitable businesses with responsibility. Since the inception, the Board of Directors has developed CSR SL to be an independent organisation represented entirely by the corporate sector companies and SMEs.

CSR SL is also the focal point of technical information and expertise on strategic CSR. Currently four of its board members are licensed as CSR 2.0 Assessors and Advisors who can evaluate corporates aligned with international standards for their stage of CSR and give recommendations to improve.