Lanka-China trade surpasses $ 4 b for the first time
A great destination; TPP could affect our exports in future: Rishad
93% of total trade are imports
Says TPP reviewed in view of Lankan apparels
China is a promising market for Sri Lanka's select, premium products such as gems and an important round of bilateral talks on Lanka-China FTA is scheduled for next month.

Updating the Lankan business community on the country's latest global trade developments, Minister of Industry and Commerce Rishad Bathiudeen also revealed on 29 April the Government's intention to review the Trans Pacific Partnership (TPP) further before any action, addressing the 'Meet the Minister' session organised by the National Chamber of Commerce of Sri Lanka. He was joined by National Chamber of Commerce President Thilak Godamanna, National Chamber of Commerce Secretary General/CEO Bandula Dissanayake and Members of NCC as well the Ministry's top officials.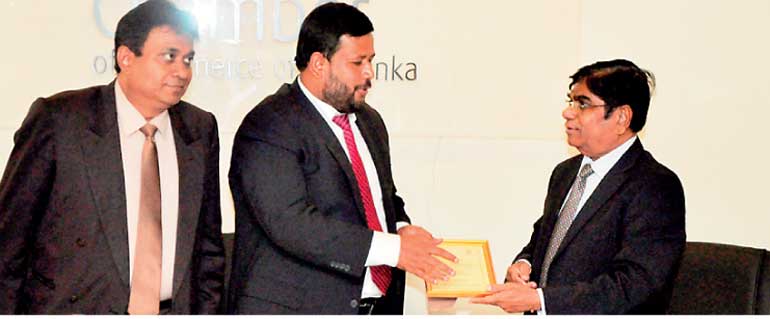 Minister of Industry and Commerce Rishad Bathiudeen accepts a token of appreciation from NCC Chamber President Thilak Godamanna on 29 April as NCC Senior Deputy President Sujeeve Samaraweera (left) looks on


"Being a founding member of GATT and WTO, Sri Lanka is committed to pursue an outward-oriented trade regime following the principles of the WTO, with a view to enhancing overseas market access for our export products and achieving greater integration into the world economy. The Indo-Sri Lanka Free Trade Agreement and the Pakistan-Sri Lanka Free Trade Agreement allow more than 4,000 product lines to be exported to these two markets at zero duty. Sri Lanka actively involves in Joint Economic Commissions and bilateral forums with a number of countries in order to enhance our trade and commercial relations," said Bathiudeen.

He added: "When reviewing the garment sector, we need to be able to carefully address the Trans-Pacific Partnership (TPP) Agreement under which tax free garment export opportunities have been given to countries such as Vietnam. This has enabled them to engage in competitive markets and supply the American, Chinese and Japanese markets at low rates. This may also affect exports from Sri Lanka in the future. TPP must therefore be reviewed further. In this context, arrangements are under way to hold the third round of negotiations for China-Sri Lanka FTA in June this year."

Trade between Sri Lanka and China crossed $ 4 b last year for the first time in the bilateral trade history, surging by 17% from 2014's $3.58 Bn. 93% of 2015's total trade consisted of imports from China-mainly iron and steel, fabrics and fibres, cotton, and urea fertiliser.

Responding to questions by business reps from the gem and jewellery sector at the session, Bathiudeen said: "We are working on further product diversification to China. There is no doubt that China will be a promising market for select, premium products such as Lankan gem and jewellery items."