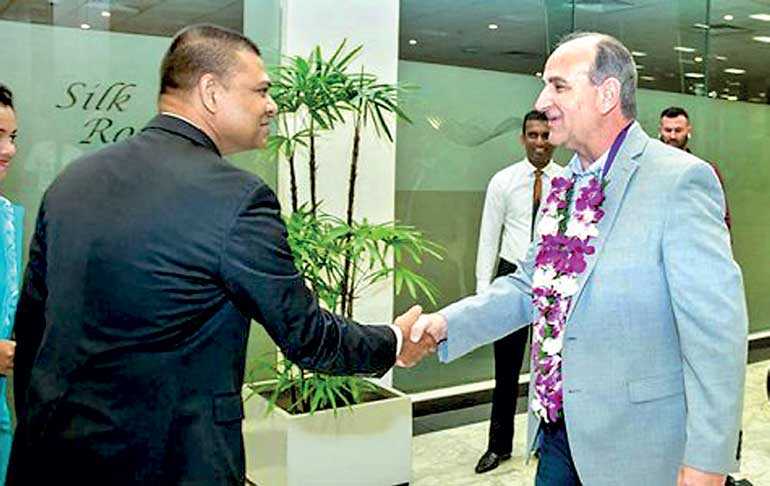 The world's number one authority on Intelligent Leadership and the coach of Steve Jobs, John Mattone, arrived yesterday in Sri Lanka to deliver his expertise at a workshop organised by Sri Lanka institute of Marketing (SLIM), the apex marketing body in the country. SLIM is hosting the top Executive coach and creator of the IL Executive Coaching Process and Certification for an exclusive intelligent leadership workshop, consisting of two forums on 12 and 13 June.

"John Mattone in Sri Lanka" aims to create a milestone in Sri Lankan thought-leadership development. The two events, titled 'The Knowledge Forum' and 'CEO's Breakfast Forum', will be held exclusively for the general public and upper-tier management staffers, paving the path to a one-of-a-kind, highly engaging, and interactive knowledge sharing experience.

The Knowledge Forum will be held at the Shangri-La, while the CEO's Breakfast Forum will be hosted at the Cinnamon Grand. The programs will focus on talent and leadership development, taking stock of global trends and data, collectively exploring winning formulas for corporate excellence. John Mattone will also use these forums as a platform to inspire attendees on unlocking potential and transformational decision-making.

The Knowledge Forum on 12 June at Shangri-La Hotel will focus on 'Intelligent leadership: Elevating the status-quo', for anyone who wants to be a true leader, irrespective of the profession that they are in; the CEO's Breakfast Forum on 13 June at the Cinnamon Grand will focus on 'Transforming Culture: a strategic imperative for future' for corporate spearheads, who are decision makers in organisations.

SLIM President and Lanka Hospitals Diagnostics CEO Pradeep Edward said: "The culture of an organisation is decided and nurtured mainly by leadership. You play an important role in ensuring that development priorities and plans will further the growth and improvement of your organisation. Therefore, do not miss this once-in-a-lifetime opportunity to learn and to be coached by the best of the best, John Mattone, coach of Apple Inc. founder Steve Jobs, and uncover the secrets to penetrate through a leadership-driven marketing culture."

Project Advisor Thushara Perera said: "The workshop with John Mattone will be a cutting-edge session, which will reinforce and provide attendees with the knowledge to penetrate the highly competitive marketing industry."

John Mattone is the creator and master of the unique, powerful and game-changing Intelligent Leadership Executive Coaching blueprint for success. Mattone has used this blueprint since 2010, having personally coached over 250 leaders, including 25 global CEOs, to help them become stronger, more effective and vibrant leaders and people.