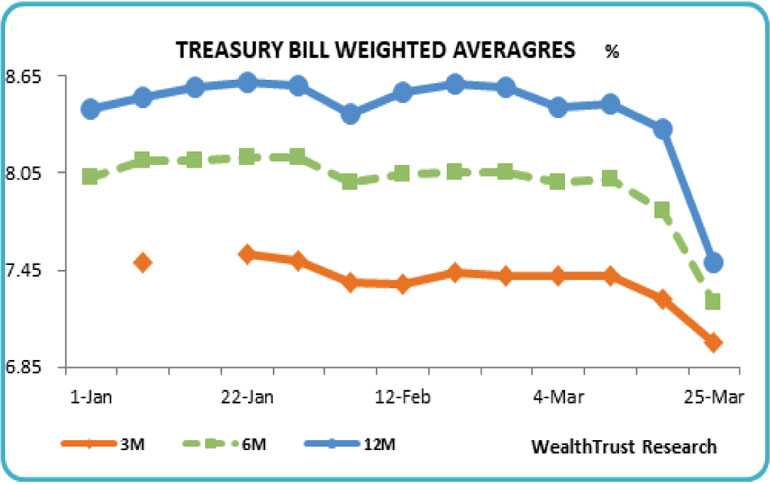 Bond yields follow suit on limited trades
By Wealth Trust Securities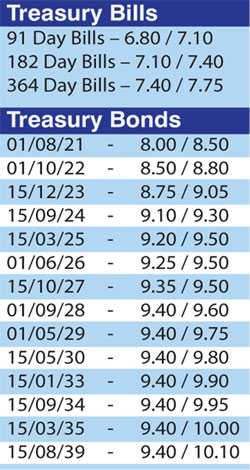 The market favourite 364 day bill weighted average (W.A.) yield was seen plunging yesterday, recording a dip of 82 basis points to 7.50%, a level last seen on 12 January 2016 while dipping below 8.00% for the first time since 10 February 2016. The 91 day and 182 day bills followed suit by decreasing by 27 and 57 basis points respectively to 7.00% and 7.25%. Nevertheless, the total accepted amount was seen falling short of the total offered amount for the first time in fourteen weeks, as only Rs. 25 billion was accepted against a total offered amount of Rs. 30 billion. The bids to offer ratio stood at 2.33:1.

The secondary bond market yields decreased considerably yesterday with the liquid maturities of 2024s (i.e. 15.03.24, 15.06.24 & 15.09.24) and 15.10.27 hitting intraday lows of 9.45%, 9.20% each and 9.50% respectively against its Friday's closing levels of 9.65/70, 9.65/75 each and 9.90/00, admit limited trades.

The total secondary market Treasury bond/bill transacted volume for 20 March was Rs. 2.66 billion.