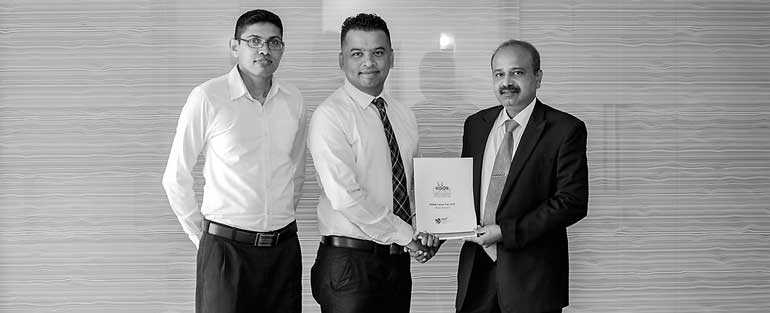 Vision Care General Manager Srimantha Wewalwala (left) and NSBM Deputy Vice Chancellor Chaminda Rathnayake exchanging the partnership documents
Vision Care Optical Services Private Ltd., one of the leading optical service firms in Sri Lanka, has partnered with NSBM Career Fair 2018 as a Silver Sponsor. The Career Fair will be held today and tomorrow at NSBM Green University Town, Pitipana, Homagama.

Vision Care General Manager Srimantha Wewalwala, expressing his views at the signing ceremony, said: "We take great pleasure in joining hands with the Career Day organised by one of the most esteemed educational institutes of Sri Lanka, NSBM. As a company, we see this as a great opportunity to welcome the future of the country to the Vision Care Group and to provide them with proper corporate guidance."

NSBM Deputy Vice Chancellor Chaminda Rathnayake added: "We are hoping to extend this relationship for future activities taking place at NSBM and are very happy to join hands with one of the key entrepreneurs in Sri Lanka, which will open both industry and entrepreneurship opportunities for NSBM students at Vision Care Group."

The first day of the Career Fair (today) will have a greater focus on Business Management related opportunities while the second day will focus on IT/Computing related opportunities. Companies and employer organisations will be able to meet students to inform them about their career opportunities, conduct interviews and recruit fresh graduates and interns at the event.

Over 50 companies have confirmed their participation in the Career Fair as of now. This includes companies such as AIA Insurance, AISEC, Apigate Sri Lanka, Baker Tilly Edirisinghe and Co., BDO Partners, Calcey Technologies, Cambio Software Engineering, Ceylon Biscuits, Ceylon Economic Development Corporation, Cinnamon Hotels and Resorts, Cloud Solutions International, Codegen International, Creative Software, Daraz, Decathlon Sri Lanka, Diesel Motor Engineering (DIMO), Direct FN, Duo Software, EasyBooking, Embla Software Innovation, Empite Solutions, Eureka Technology Partners, Fidenz Technologies, Fortude, hSenid Business Solutions, hSenid Mobile Solutions, Hayleys Group, Hemas Manufacturing, IFS R&D International Ltd., Imperial Tea Exports, ISM Apac, HSBC Global Service Centre, HSBC Sri Lanka, i-Context, Imperial Tea Exports, Itelasoft, John Keells Holdings, John Keells Logistics, Live Room, London Stock Exchange Group, Olanka Travels, Omobio, Rainco, SimCentric Technologies, Synergen Health, Unilever Sri Lanka, Virtusa Ltd., Vision Care, Vizua Matix, Zone24x7and Z Messenger, who will provide internships and entry level employment opportunities related to Business Management and IT/Computing at the Career Fair.

Vision Care Optical Services (www.visioncare.lk) is known for its years of trusted excellence and continuous adoption of the latest technology. 'Vision Care' is the market leader in eye care and hearing solutions in the country today with fully qualified professionals who conduct comprehensive eye examinations using state-of- the-art equipment to establish one's eye sight and the health of the eye at their 50 outlets island-wide.

NSBM Green University Town (www.nsbm.lk ) is a fully-fledged university town built on a 26 acre premise at Homagama. NSBM offers UGC approved and foreign undergraduate and postgraduate programs in Business Management, Computing and Design.

Students and Companies can reach NSBM Career Guidance Unit via email: careerguidance@nsbm.lk or by calling 011 544 5067 to register for the Career Fair.