Makes pressing case for Sri Lanka and other developing countries with lower COVID-19 cases yet economically vulnerable
---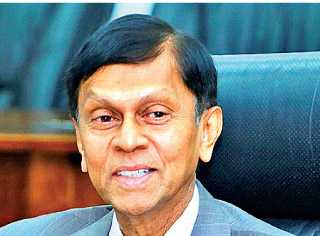 Money and Capital Market and Public Enterprise Reforms State Minister Nivard Cabraal
---
State Minister of Money and Capital Markets and Public Enterprise Reforms Nivard Cabraal on Tuesday told a global forum that the vaccine in the form of a debt standstill by the international community is critical for Sri Lanka and other developing countries with lower COVID-19 cases yet economically vulnerable.

He made this suggestion in his intervention during the UN Conference on 'Financing the 2030 Agenda for Sustainable Development in the Era of COVID-19 and Beyond: Meeting of the Ministers of Finance' held virtually on 8 September.

Following are excerpts of Minister Cabraal's speech.

As we all know, Sri Lanka has been a remarkable "success story" in the fight against the COVID-19 pandemic. We have been able to contain the spread of the virus with very few deaths and minimum community spread. However, the measures taken to contain the spread, together with the adverse global economic conditions have unfortunately taken a sizable toll on the country's fiscal and external wellbeing and health.

As result, Sri Lanka, like several other middle income economies with sizable debt and heavy reliance on tourism and exports, have faced some formidable challenges. At the same time, it is also known that, although the fallout of the pandemic affected all emerging and developing nations as well, the international financial institutions prioritised financial support for the lower income economies only.

This policy forced many countries like Sri Lanka to rely on their own strengths to overcome the economic ramifications of this global crisis, although it has been quite stressful on our economies. It has also reduced our ability to provide further much-needed relief to our people who have been affected by this global debacle. Even amidst these difficulties, we have courageously adopted relief measures to ease the burden on domestic businesses and individuals.

We have granted debt moratoria, tax relief and concessional lifelines. We have provided cash grants to millions of affected persons to help them to face the challenges caused by this global pandemic.

In that background, and in the same spirit, we believe the international financial institutions that were established to bring stability to the world economy and to foster economic growth such as the International Monetary Fund and the World Bank should now offer a "debt standstill" for the year 2021 for all emerging and developing countries to tide over this difficult period.

Such a move will be in keeping with their mandate and will also enhance the ability of affected governments to provide much-needed assistance to their people.

It will also enhance global economic and financial stability, which is a prerequisite for sustainable development.

Your Excellencies, we need to understand that global crises require global solutions. We must remember that a vaccine administrated only to the "vulnerable" will not prevent the spread of a virus. In order to decisively end a pandemic, the vaccine must be administered to those who are not infected as well.

In the same way, let us appreciate that the economic fallout caused by the pandemic has left developing nations in a vulnerable economic condition. Those countries need to be protected with a vaccine in the form of a "debt standstill" by the global community.

If that is not done, and consequently any vulnerable economy were to falter, like so many businesses have failed, the fallout could seriously affect global economic stability as well. That is a danger that the global community needs to avoid at all costs. Thank you.