Female Futures Forum 2018 to be held on 27 October at Mercedes-Benz Fashion Week; forum to build discourse, engagement and action to increase women's active participation in business and society with pride of place and opportunities to deliver
Yes, progress has been made. Today, women drive major industries, educate the younger generation, lead nations, make discoveries at the frontiers of science and emerged as venerated idols in entertainment and the arts, amidst continuing roles as mothers and bearers of heritage for many cultures. Yet despite the strong evidence that the realisation of female economic rights advances economies and paves the way for sustainable development, women still remain disproportionately affected by poverty, lack of opportunities to education and inheritance rights, lack of participation in decisions that affect them and discrimination and exploitation at work. The conversation on how we can redesign the future must continue. Further, it must evolve beyond talk to bring about engagement and impact. Why? Because for as long as one of the most powerful economic forces available to humanity are not unleashed to their full potential, the world we live in will remain short of our collective expectations for sustainable development and economic growth.

Championing this vision in Sri Lanka, the second edition of Female Futures Forum returns to the stage after its remarkably successful inaugural edition where some of the brightest female minds from the business, art, education and political realms joined with progressive male voices and an audience of over hundred people. Building on this success, the Female Futures Forum's 2018 edition unfolds at the Mercedes-Benz Fashion Week Sri Lanka, presented by AOD and powered by Dimo.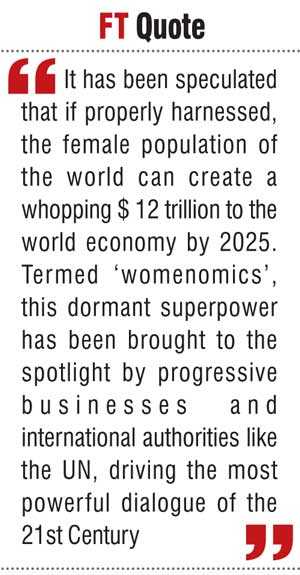 Where women make serious business sense

It has been speculated that if properly harnessed, the female population of the world can create a whopping $ 12 trillion to the world economy by 2025. Termed 'womenomics', this dormant superpower has been brought to the spotlight by progressive businesses and international authorities like the UN, driving the most powerful dialogue of the 21st Century.

In UN research conducted in Sri Lanka in 2016, the Female Labour Force Participation (FLFP) rate in Sri Lanka declined from 41% in 2010 to 36% and women at all levels of educational attainment find it increasingly difficult to secure high-skill and higher-paying jobs.

Getting women to work in Sri Lanka will require embracing comprehensive and multi-pronged strategies that require collaboration between various stakeholders, including the private sector. However, Sri Lanka's fashion, wearables and related businesses in particular have the perfect platform to influence this change, with a significantly higher female workforce, and it is celebrated as an industry that is especially conducive to rural women.

This is why the Mercedes-Benz Fashion Week Sri Lanka—an event held under the patronage of the local apparel industry led by MAS, Brandix and Hirdaramani—has included the Female Futures Forum as an essential part of its agenda. The Female Futures Forum 2018 will pick up the conversation on harnessing the power of the female at the workplace and commit to actionable outcomes at the individual and corporate level.

Views from female forces in business, fashion and education

Linda Speldewinde, a trailblazing entrepreneur, business brain and passionate advocate of women and their enormous economic potential, is behind bringing the Female Futures Forum to Sri Lanka. Speldewinde will welcome the conference. The legendary female fashion educator Jane Rapley –professor emerita at Central Saint Martins UK - will chair the forum and drive the conversations through a thought-provoking agenda over four inspiring hours.

Aleksandra Szymanska, the art director of the world's leading business intelligence agency – The Future Laboratory - will bring in the latest research on women in leadership, reaching female consumers and showing what resonates in order to create a behavioral change. Szymanska's insights will help brands and businesses understand the hard facts and subtle truths of what the female future looks like and how business will evolve in a changing landscape that will grow less hostile to working women.

The female spirit and bringing its best strengths to work

Nimila Bhath, co-author of Shakti Leadership: Embracing Feminine and Masculine Power in Business, will lead a very interesting session that puts the polarities of masculine and feminine attributes under the microscope to understand their subtleties, strengths and inherent ways, making the case for why we need to balance masculine strengths (such as focus, direction and order) with the feminine (such as empathy, creativity and inclusion).

Nimila will help the audience understand how to create more powerful and conscious leadership in the world by balancing these attributes and understanding where to bring each in. Nilima's session will be an inspiring set of ideas about how we might begin to rebalance the world we live in.

Sri Lanka - a reality check

Sri Lanka gave the modern world its first female head of state in 1960 yet a new World Bank report reveals a shocking statistic—the island hosts the 17th largest gender gap in labour force participation globally. The report identifies gender discrimination at every step of employment—from job hunting to hiring to promotion—a reality many women face. The question remains not just how to make the workplace more inviting to women or how to increase the number of women in employment but simultaneously balance multiple roles. This panel led by policymakers will examine this grim reality and discuss the concrete action to address enhancing women's positions in the Sri Lankan economy.

Fashion and advertising—are we our own worst enemy?

With Bandana Tewari – former Editor of Vogue India and Linda Watson – reader in fashion at Northumbria University UK with Natasha Skou – Country Manager at SPALT PR in Denmark, this session aims to point and counterpoint for each of the industries shedding the old stigma and flipping the messaging to empowering women, how the retail brands are adjusting and how the advertising messaging is managed.

A powerful session by Lathika Pai – Managing Director of Microsoft Startups and Founder of Sonderconnect will take the conversation to a deeper stage where making business, making equal opportunities transcend.

Pai, who returned to India after decade of working in major tech companies like Nortel, American Management Systems (CGI), and a $ 300-million funded startup Relera, in the US and the UK, was struck by how she doesn't see women in leadership teams. Pai became a dedicated advocate in opening up opportunities to working women, particularly in tech and startups. Her understandings on why it is essential to keep female founders and entrepreneurs in the game will weave through what women contribute to entrepreneurship, start-up culture, tech and business as a whole.

Corrective action—beyond lip service

An intriguing discussion will dissect how being a diverse and inclusive organisation is a commercial imperative in the global marketplace and why championing gender equality helps identify new opportunities and emerging markets, responding to clients' current and future needs. It will reach topics like moving beyond 'ticking' the right box and how painful systemic changes are required with a sincere effort to build the right culture. The panel will be led by Neerja Bhatia – Vice President of Etihad in the Indian subcontinent.

Women and men—partners in progress

Women's empowerment cannot ever wholly be addressed without a genuine collaborative effort from both sexes. Leaving the past as the past but keeping the learnings, it is important to engage with men as part of the solution.

The discussion aims to set the clock at zero, look forward to progressing the agenda towards gender equality, shedding the stereotypes and building a path forward. Recognition that at some point males and females have used the system to progress but now collectively see a new future, needs to be designed where women and men have a choice and have equal opportunity for economic contribution and independence.

The who's who of the corporate world—Ajith Dias - former Chairman of the Joint Apparel Association, Sri Lankan Airlines and former Director of Brandix; Jonathan Alles – MD/HNB; Mano Sekaram – CEO and cofounder of 99X Technology; Dulith Herath – Founder and Chairman of Kapruka will be led into a discussion on this progressive topic by Shiromal Cooray – Managing Director of Jetwing Travels.

Whether we are talking about providing primary education for girls or executive positions for women in business, it is time to create a world where all women can meet their potential without impediment or prejudice and the world will reap the benefits. It is imperative that we understand the issues, deliberate the solutions and resolve to act now.

The emerging attitude and burgeoning global movements to redress past misdeeds are driven largely by Gen Z looking at ditching a broken system for one that better reflects an inclusive reality. Join us at Female Futures Forum, where we lead the conversation toward engagement and impact in redesigning that future.