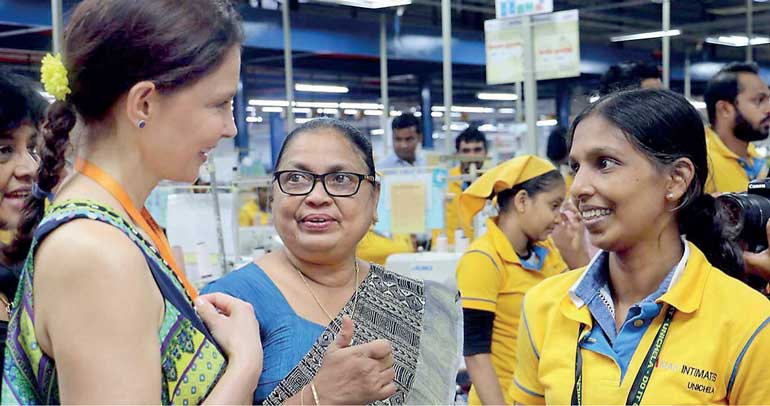 Award-winning Hollywood actress, writer, and The United Nations Population Fund (UNFPA) Goodwill Ambassador, Ashley Judd, who is in Sri Lanka on a short UN mission, visited Sri Lanka's design to delivery apparel and textile solutions provider MAS Holdings yesterday.

Judd, after visiting the MAS Intimates Unichela garment factory in Panadura, said she was "blown away" by the workforce and operations at South Asia's largest manufacturer of lingerie.

"Sri Lanka's largest export industry is driven by women. I had the opportunity to meet with many of these women and I am overwhelmed by their resilience and strength. These women uplift their livelihoods by improving their skills, growing their careers, and reaching new heights. Their success provides immense support to their family, community, and to the country on a whole," Judd said. "It is so inspiring to see how one industry, fuelled by aspiring women, can help a country to raise above poverty."

UNFPA Goodwill Ambassador Judd, during her visit to Sri Lanka, is engaging with women and girls from different backgrounds, to learn about their livelihoods and views on gender-based violence.

She is also expected to meet with stakeholders from the public sector, private sector, and donor community, to highlight the importance of investing in the reproductive health and rights of people.