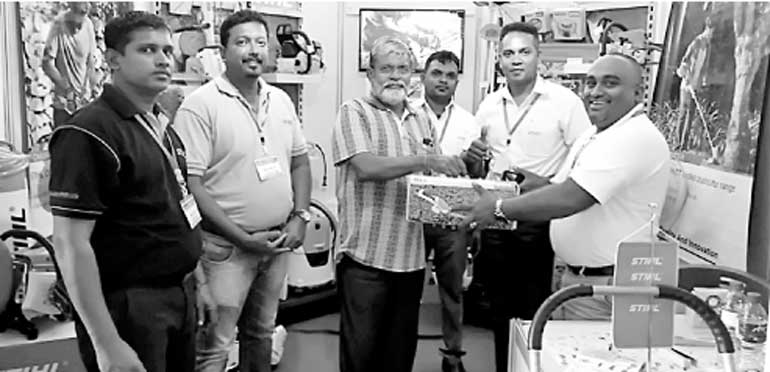 The world's bestselling brand of chainsaws and power tools STIHL, manufactured by renowned German organisation Andreas Stihl AG & Co, KG sold exclusively in Sri Lanka through authorised distributor Figaro Ltd., is now available to customers in the north.

During the recently-concluded successful Jaffna International Trade Fair (JITF 2018), the largest Consumer Exhibition and Trade Fair in the fast-growing northern region of Sri Lanka, STIHL products were showcased at Figaro's own exhibition booth.

Over 60,000 visitors from across the country who attended the exhibition were able to view a range of outdoor power equipment including chainsaws, bush cutters, high pressure washers, vacuum cleaners, etc. on display at the Figaro stall.

Visitors were also able to experience STIHL's range of products which are operated via battery technology demonstrating the company's commitment towards a greener and more sustainable environment. Products are designed to suit both large scale and small industry requirements in maintaining gardens, construction and for cleaning needs. All equipment supplied ensure superior performance, are lightweight, compact in design and features fuel-efficient engines specifically designed to meet customers' needs.

Founded in 1926 by Andreas Stihl, the company has today a rich history of over 90 years and recognised as an internationally-acclaimed manufacturer of chain saws and outdoor power tools. Over the years STIHL brand continues to manufacture and produce a comprehensive range of tools including bush cutters, tea pruners for the tea industry, pole pruners, hedge trimmers and a vast range of other outdoor power equipment.

As authorised distributor for STIHL in the country, Figaro Ltd., has over six decades of experience and a consistent orientation towards the needs of its customers. Through the company's main office and vast network of dealers located countrywide, all customers are provided competent advice and a professional service.

To assist all customers in the north, Figaro has appointed Thiliyampathi Motors, located on Stanley Road Jaffna, as the area dealer for its products. Additionally, the company invites reputed machinery dealers from Northern Province wishing to join their network to register as dealers for STIHL's impressive range of products. Figaro's staff is highly trained with requisite on-product knowledge to offer assistance on all queries.