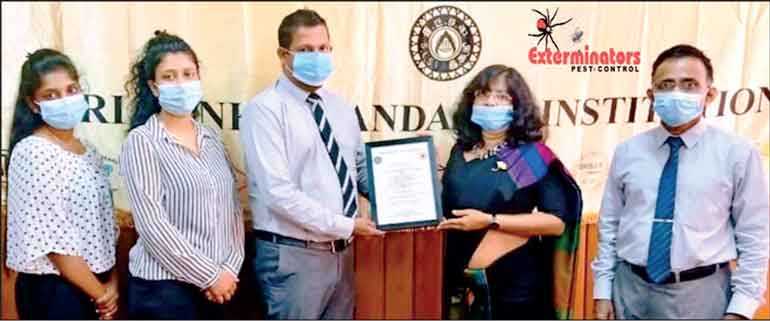 Exterminators Director/CEO Travis Ferreira receiving the certificate from SLSI Director General Dr. Siddhika Senaratne
Becomes Sri Lanka's first 'COVID-19' Safety Management System Certified SME and Pest Control Company
The Exterminators Ltd., Sri Lanka's premier and pioneer environmental enhancement solutions provider was certified as Sri Lanka's 1st and probably the World's 1st 'COVID-19' Safety Management System Certified SME and Pest Control Company (SLS 1672-2020) (Anti-microbial disinfection services/Pest control services/Termite control services).

The company was certified on 7 July by the Sri Lanka Standards Institute for 'COVID-19 Controlled Environment Certification after two comprehensive audits covering all aspects of the organisations operations. The purpose was to introduce safe work practices in order to prevent the spread of the COVID-19 infection to workers, visitors, customers and all stake holders and their families and the surrounding community during the COVID-19 outbreak.

The Exterminator Ltd; Asia's 1st 'Carbon Neutral' pest control company was re-certified for the sixth consecutive year in June 2020 and became the World's 1st Anti-Microbial Disinfection service provider to be 'Carbon Neutral Certified' in July 2020 by the 'The Sustainable Future Group'. Since 1998, for over 22 years 'Exterminators' has helped prevent diseases, control nuisances and protect homes and businesses by pioneering, developing, delivering and articulating sustainable environmental enhancement and public health protection solutions.

The Exterminators Ltd. is Sri Lanka's 1st IMS Integrated Management System certified SME and Pest Control Company (ISO 9001, ISO 14001, OHSAS 45001, ISO 22000) and the winner of 50 National/International awards for business, brand excellence, entrepreneurship and environmental leadership and the '7 time champion SME brand in Sri Lanka. All services provided by Exterminators are 100% 'Carbon Neutral'. The company is a member of the British Pest Control Association, Singapore Pest Management Association and the National Pest Management Association – USA.