Dole's commitment to increase access to sustainable nutrition for one billion people alongside its efforts to move towards zero fruit loss has spurred an initiative like no other. The recently-launched Dole Promise consists of six pillars for operational sustainability and success, including all aspects of the company's functions and stakeholders. In this exclusive interview, Dole Lanka Ltd. Managing Director Carlos Alberto Antúnez Obando shares his insights on the initiative:
---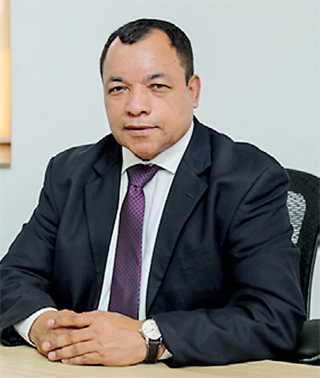 Dole Lanka MD Carlos Alberto Antúnez Obando
---
Q: What is the Dole Promise?

The Dole Promise is the vision of the company for the next 10 years consisting of six pillars for operational excellence. The Promise integrates our values as a company into the processes concerning each touch point and stakeholder involved in our activities. It aims to increase access to sustainable nutrition and decrease food waste, plastics in packaging and carbon emissions, as well as grow value for the company's stakeholders, including farmers and shareholders.

The Dole Promise reflects the recognition that 'business as usual' is unacceptable, especially when society is seeing the repercussions of unsustainable business practices impacting all aspects of our lives, from the looming food crisis to the impacts of climate change to resource waste and declining natural resources. We at Dole believe it is time for a change, and we are taking action where we can be most effective – within our own business.


Q: Tell us about the Japanese philosophy of Sampo Yoshi and how it has been integrated into the Dole Promise?

The Dole Promise draws on the spirit of 'Sampo Yoshi,' an 18th century Japanese philosophy that views the well-being of society and business as interdependent, and ensures the business is beneficial to the seller, to the buyer and to the community. Literally meaning 'three-way satisfaction', the philosophy believes that nothing should come at the cost of another.

The triple-win concept of 'Sampo Yoshi' has been part of Japanese culture for centuries, and is now at the heart of The Dole Promise as we play our part in helping to restore balance in the world by doubling down on our mission to put the health of the planet at the heart of everything we do. It's a promise that Dole is making to do business differently, and to join forces with those who are equally committed to bringing back the goodness of the earth.


Q: Why has Dole focused on these six pillars specifically?

Dole, in terms of our customers, wants to provide access to nutrition for one billion people by 2025 and move towards zero processed sugar in all Dole products by 2025. In terms of our planet, we want to move towards zero fruit loss by 2025 and move towards zero fossil-based plastic packaging by 2025 with solutions that contribute to a circular economy. In terms of our promise towards the climate, we aim towards carbon neutrality in Dole operations by 2030.

Finally, shared value for all our stakeholders. Dole will continue to positively impact all farmers, communities and people working for Dole through its commitment to equal opportunity, living wages, and an ever-increasing level of safety, nutrition, and wellbeing. The company also seeks to advance human rights within our direct operations and supply chains by building a culture of transparency and accountability. The company also aims for a 50% increase in the value of its business by 2025.

These pillars encompass all the values we hold dear as a company and have integrated changes in all aspects of our business operations in order to ensure that we are making sustainable and viable changes on all levels of the company. We hope that these pillars will help us make quantifiable changes in our operations in order to contribute towards our suppliers, farmers, customers and stakeholders from a 360-degree point of view.


Q: Why has sustainability been made the overarching theme of the Dole Promise?

With the COVID-19 crisis turning the spotlight on many other ongoing issues in our world, we have realised that there are many immediate actions that need to be taken in order to ensure that we strive as a planet. To do this, we as a company need to maintain a healthy relationship with the environment, ensure we are maintaining the best quality produce, and ensure we are enhancing the livelihoods of our people, making sure we do this in a way that's both workable and fruitful in the long term.

Our values come from our ancestors, and us as a consciously functioning society need to make sure that we continue to implement these values so that future generations to come will reap the benefits of our actions. For this reason, the Dole Promise looks at ways in which we can contribute towards customers and communities, keeping in mind the future of our people.


Q: What does Dole hope to achieve in the future with the implementation of the Promise?

In the next five to 10 years, Dole hopes to bring about a holistic change in the way we function as a company. By implementing the Dole Promise, we hope to set a benchmark for the industry and set an example of how our values as people can aid in defining the way our business operations and goals are taken forward. Capitalising on the positive ways in which we impact our consumers, planet, stakeholders and climate will aid us in implementing sustainability and holistic harmony on a strategic level. We believe that companies can't just think in profit anymore – we need to think in service. This is the only way we can guarantee that we can service in the long-term.