Lower performance in consumer goods and agribusiness sectors has pushed back Sunshine Holdings PLC's top-line performance growth during the first quarter of the current financial year (1QFY20) as the diversified Sri Lankan conglomerate reported consolidated revenue of Rs. 5.2 billion, a decrease of 6.5% YoY(Year-on-Year). However, the degrowth of the two business sectors has been partly set off by the robust performance of the Group's healthcare sector.

Profit After Tax (PAT) for the period in review increased by 67.9% to Rs. 573 million and profit margins have also increased to 11% compared to last year's (1QFY19)6.1%, mainly due to the profit gained from the sale of its tea plantation business Hatton Plantations PLC to Lotus Renewable Energy Group. Profit after Tax and Minority Interest (PATMI) increased by 75.7% YoY to Rs. 333 million with the agribusiness sector, making the largest contribution to PATMI, accounting for 28% of the total.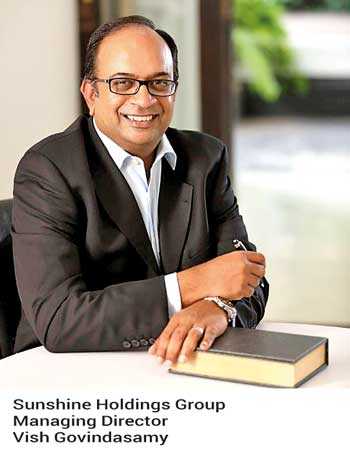 The Group's healthcare sector emerged as the largest contributor to Sunshine's revenue, accounting for 44% of total revenue, where agribusiness contributed 25% and consumer 23% of the total revenue. During the period in review, Net Asset Value per share increased to Rs. 53.76, compared to Rs. 48.09 at the end of 1QFY19.

Commenting on the Group's financial performance, Sunshine Holdings Group Managing Director Vish Govindasamy said: "In the wake of the deadly Easter Sunday attacks, Sri Lanka's consumer goods and retail sectors have been severely affected. With Sri Lanka's economic growth expected to grow at a slower rate this year, drastic changes in consumer buying and spending patterns will continue to impact both our consumer and retail businesses, declining their short term growth prospects."

"However, the latest gazetted price increase for the price control molecules and the stabilisation of the Sri Lankan Rupeehas improved the performance of our healthcare sector, making it the major revenue contributor of the Group. In agribusiness, we believe palm oil will contribute significantly to our bottom line due to increasesvolumes and prices. Moving forward, the Group will further explore opportunities to expand our growth within our existing business segments and increase profitability through well-placed strategies," said Govindasamy.

The Group's Healthcare sector posted revenue growth of 10.5% YoY due to strong contributions from the Medical devices sub-sector. The pharma sub-segment, which represents 66% of healthcare revenue grew 6.3% YoY in 1QFY20, due to higher sales volumes and price increases. Medical devices sub-sector grew by 36.9% YoY,while the retail sub-sector contracted by 2.3% YoY.

"In Healthcare, the focus will be on improving the product range and operational efficiency during 2QFY20. As for Healthguard, the focus continues to be on developing the specialty range of beauty and wellness products while attracting more customers to the chain by improving the online presence of the business. 2QFY20 will be a recovering phase post-Easter Sunday attack," Govindasamy commented further.

The Consumer sector reported revenues of Rs. 1.3 billion in 1QFY20, down 5.8% YoY,and accounted for 23% of group revenue for the period.The domestic branded tea business within Consumer sold 1.0m kg of branded tea, whilePAT from the Consumer segment declined by 36% YoY to stand at Rs. 38 million due to lower revenue.

The Group's Agribusiness sector, represented by Watawala Plantations PLC (WATA) and Hatton Plantation PLC (HPL), saw a revenue decline of 24.5% YoY to Rs. 1.4 billion due to unfavourable weather conditions which directly impacted the tea plantations managed by HPL. In May 2019, Lotus Renewable Energy Ltd. (LREL) bought 51% controlling stake in Hatton Plantation PLC for Rs. 1 billion. Moving forward, Group's agribusiness will be a combination of Watawala Plantations and Watawala Dairy Ltd.

Palm oil volume increased by 28.0% YoY for 1QFY20.PAT for the period in review contracted by 2.6% YoY to stand at Rs. 199 million. The reduction was mainly due to the losses in the tea sub-segment.

In the renewable energy segment, revenue amounted to Rs. 26 million in 1QFY20, down 72.2% YoY from Rs. 92 million during 1QFY19 as a result of lower rainfall in the catchment areas and plant maintenance. The sector PAT stands at a loss of Rs. 42 m for the period in review, compared to a profit of Rs. 44 million in the same period last year. The Group also ventured into solar power with its new company -Sky Solar, with an installed capacity of 1MW.

VishGovindasamyfurther noted that Group's consumer business would continue to invest behind its brands to scale the domestic businesses focusing on sales and marketing efforts to drive revenue in 2Q. In the Agribusiness, he hopes to see moderate growth in volumes for the Palm Oil segment due to the shift in yield curve while prices are expected to be stable in the short term. Palm oil duty increased by Rs. 25 with effect from 12 July ​, which will further enhance the revenue.

On the dairy sub-sector, the total milking cows stood at 813, and the total number of animals at 1,380. Govindasamy expects to rationalise the feed cost further and increase selling price due to higher demand. In the Renewable Energy segment, Sky Solar, the rooftop solar company is evaluating its rapid expansion in solar power, after securing growth funding of $ 2 million from SBI Japan.