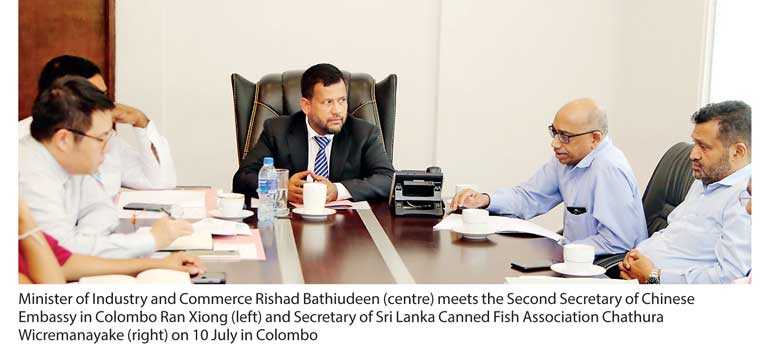 '80 containers of canned fish held back after inspections' – Rishad
Instructs officials to arrange Chinese supplier visit to SL promptly
'Good decisions – Do inform us your new standards' – China's Xiong
Sri Lanka's import of Chinese canned fish up by a huge 800%
Stepping in and mediating on time, Sri Lanka has successfully turned around the issue of spoilt canned fish imports muddle following in-depth and multi-level talks with all the key stakeholders in Colombo on 10 July.

"We invite a canned fish supplier delegation from China to Sri Lanka for discussions," said Minister of Industry and Commerce Rishad Bathiudeen at the Ministry. Minister Bathiudeen was addressing the Second Secretary of Chinese Embassy in Colombo Ran Xiong during his meeting with all the stakeholders (such as the Chinese Embassy, Customs, importers, SLSI, and the Health Ministry) in view of resolving the canned fish imports issue.

Canned fish is a heavy use item by local consumers and an essential item in the management of day to day cost of living. 60 Lankan companies annually import 40 million kg of canned fish for the local market.

Since May 2018 no canned fish consignments from China have been received by Sri Lanka. It has been widely reported in media that worms were detected by Lankan authorities in some imported canned fish tins to Sri Lanka and consignments were held back at customs – and some even ordered to be re-exported. As a result, Since February Lankan authorities have been detecting corrupted and unfit canned fish destined for local markets landing in local ports. Both SLSI and Ministry of Food Control Dept. under the Health Ministry decided that 31 canned fish consignments imported from Chinese suppliers were unfit to be released to local markets due to the presence of more than three parasites in them.

A prevalence of between zero-three are acceptable but these consignments had a higher rate of parasites.

"Of 92 containers of canned fish arrived early this year in many consignments from Chinese suppliers, and 80 containers rejected by Lankan authorities based on certification guidelines. Our authorities have done their job right," announced Minister Bathiudeen and added: "Still, total stoppage of canned fish imports will affect our consumers and market shortages can happen here. We wish to call the support of the government of China to resolve this situation through amicable discussions and we are confident Chinese authorities will support us and their own exporters who have faced this issue, to meet our health standards. As government officials, we are ready to support our importers to comply with SLSI standards. We invite a canned fish supplier delegation from China to Sri Lanka for discussions and resolution of this issue. Thereafter we shall send a Sri Lankan importer delegation to Beijing to finalise."

Secretary of Sri Lanka Canned Fish Association Chathura Wicremanayake agreed with Minister Bathiudeen.

"There are a great number of exporters in China and this happens only once in a way – last time this happened in Sri Lanka was 22 years ago but on the fish imported from Chile. We have been importing fish from China for the past eight years and this is the first time this issue surfaced. Chinese products are not bad except sometimes some spoilt cans get mixed. We believe Chinese exporters also should step in now and show they are reliable suppliers. We believe Beijing would update its own suppliers of the changes in standards applied in Sri Lanka," said Secretary Wicremenayake.

Officials from SLSI and Health Ministry said that they are not against canned fish imports to Sri Lanka. "We are not opposing imports but exporter to Sri Lanka should certify the quality otherwise SPS violation can occur and our consumers are affected," they stressed.

According to the Department of Commerce under Minister Bathiudeen, Sri Lanka's $ 2 million canned fish imports (2013) from China steadily increased over the recent years – to $ 4.85 in 2014, $ 9.65 in 2015 and in 2016, surged by eight-fold to a massive $ 16.85 million.

Second Secretary Xiong agreed standards have to be maintained for the betterment of both countries and added: "Letters from Trade Remedies Division wants further clarifications from Lankan authorities. We agree to Sri Lanka's revised standards while we also call for a buffer period for our exporters to adjust. I am in discussions with our Chinese suppliers and Chinese Chambers. We are optimistic this issue could be resolved in collaboration with all local authorities and Lankan importers," stressed Xiong.

All stakeholders at the session expressed their satisfaction on the prompt decisions by Minister Bathiudeen as well as his Industry and Commerce Ministry officials' actions to bring the continued issue to a good closure on 10 July.