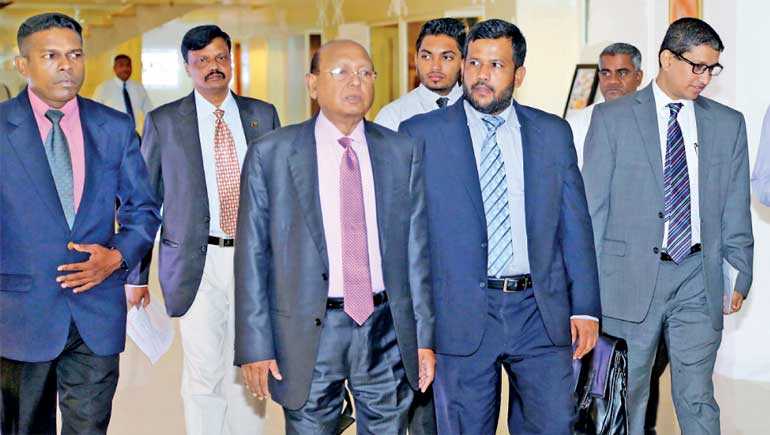 Minister of Industry and Commerce Rishad Bathiudeen (second from right) and Minister of Commerce of Bangladesh Tofail Ahmed (third from right) arrive for the fifth SL-Bangladeshi Joint Economic Commission session at Cinnamon Lake Hotel on 9 November 2016
Three years since last economic sessions, says Rishad
Session's dates to be agreed; to meet later this year
Total bilateral trade up by 34% in last five years: SLDOC
Sri Lanka's trade with Asia's fastest growing economy is set to surge when both countries meet for Ministerial trade talks later this year, after almost three years.

"The fifth session of the Joint Economic Commission between Bangladesh and Sri Lanka was held in Colombo in 2016. Therefore the time has come for the sixth trade session between both countries," said Minister of Industry, Commerce, Resettlement of Protracted Displaced Persons, Cooperative Development, Skills Development and Vocational Training Rishad Bathiudeen on 6 August in Colombo.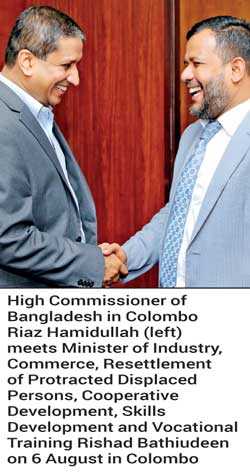 Bathiudeen was addressing the High Commissioner of Bangladesh in Colombo Riaz Hamidullah when the High Commissioner called on the Minister at the Ministry in Colombo 3 on 6 August.

The Bangladesh Joint Committee for Economic & Technical Co-operation (SL-BJCETC) at ministerial level was last held in Colombo on 9 November 2016.

"During the 2016 SL-BJCETC session, ideas were exchanged between the two countries on the proposed Bangladesh-Sri Lanka Bilateral Free Trade Agreement. Also the draft Bilateral Investment Promotion and Protection Agreement (BIPPA), cooperation between the Investment Authorities in Bangladesh (BIDA) and Sri Lanka (BOI), and the draft MoU on standards between BSTI and SLSI were discussed – they later became a reality when MoUs were signed in 2017. In the next session to be held in Dhaka, we can explore implementation and also plan next steps of these. The dates for next session need to be agreed and finalised with the Bangladeshi side," said Bathiudeen. "Also as the Minister of Development Strategies and International Trade Malik Samarawickrama has already announced, the FTA could be signed once the joint feasibility study is finalised."

The proposed bilateral FTA aims at boosting total trade to higher levels beyond current $ 150 m levels. According to the Department of Commerce, bilateral trade between both countries in 2018 (Jan-Nov) totalled $ 156.15 m in comparison to $ 166 m for all 12 months of 2017. The balance of trade has been in favour of Sri Lanka over the years. Exports to Bangladesh were at $ 124 m (2018 Jan-Nov) growing by 34% in the five years since 2014. Sri Lanka's main exports to Bangladesh in 2018 were plastics, cotton, knitted fabrics, soaps and fuel oil. Even total trade has increased by 34% in the last five years – from $ 116 m in 2014 to $ 156.15 m in 2018 (Jan-Nov).

In July 2017, after a bilateral meeting between President Maithripala Sirisena and Hon Bangladeshi Prime Minister Sheikh Hasina in Dhaka, both countries signed 14 instruments some of them the result of 2016 Colombo session. Sri Lanka and Bangladesh are members of regional trade and co-operation agreements, including the South Asian Free-Trade Area (SAFTA), the Asia Pacific Trade Agreement and the Bay of Bengal Initiative for Multi-Sectoral Technical and Economic Co-operation.

Bangladesh has been identified as a fast growing economy. Last month, Asian Development Bank Bangladeshi Country Director Manmohan Parkash, speaking in Dhaka said that Bangladesh "will stand out by growing at record 8% in 2019 and 2020, making it the fastest growing economy in Asia-Pacific".