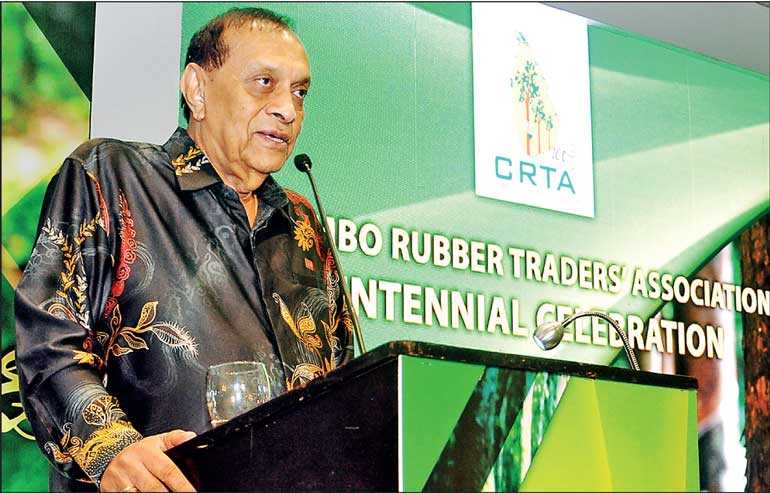 Chief Guest Speaker of Parliament Karu Jayasuriya
---
Instructs industry stakeholders to push for masterplan
Authorities in discussion with China on financial assistance package to revive rubber industry
Admits SL has migrant employees on temporary visa, calls for immediate attention to address labour shortage
By Charumini de Silva

Speaker Karu Jayasuriya on Friday insisted the need for a comprehensive rubber masterplan to drive the industry to the next level.

Speaking as the Chief Guest of the Colombo Rubber Traders' Association's (CRTA) Centennial Celebratory Gala Dinner , he called on the industry stakeholders to push for an inclusive master plan to make rubber a significant contributor to the economic growth of the country.

"We have got to have a comprehensive masterplan for rubber. The Government was been working on drafting one. It is now up to the stakeholders to push that plan to take the rubber industry to new heights," he added.

Recalling some of the industry's historic moments at a time when the rubber trade is celebrating 100 years, Jayasuriya said Sri Lanka's rubber industry was considered a case study for many economies in the region, where they came to study the model and how the rubber trade helped build the country's economy particularly through its export earnings.

He said that when China wanted to plant rubber in one of its provinces, Sri Lanka was the only country that provided them with the necessary seeds, which they are very grateful for even today.

"In 1982, when China wanted to plant rubber in Yunan Province, they asked for seeds from Malaysia, Indonesia and Thailand but none of them was helpful. Then they asked the Government of Sri Lanka and it was my company that provided them with one million rubber seeds. As a gratitude for that China is prepared to offer a financial assistance package to Sri Lanka," he elaborated.

Jayasuriya said China was negotiating in terms of the financial assistance package with the Planation Industries Ministry and relevant authorities on the matter. He believes this assistance will gravely help the industry which is facing a challenging time.

He also said Sri Lanka benefited significantly from the historic Rubber-Rice Pact, which not only helped both nations fulfill their economic aspirations but also strengthened the long-lasting friendship between the two countries.

Noting that this agreement could be regarded as the longest trade agreement, he said it could be recognised as an "agreement of friendship", which he believes will last long into the years to come.

Acknowledging the acute shortage of labour, he noted that there were many migrant workers now working in Sri Lanka on a temporary visa.

"Lack of labour is a major challenge that many industries in Sri Lanka are facing today. Unofficially, I know that there are a lot of labourers from Pakistan, Bangladesh, India and Myanmar working with a temporary visa in Sri Lanka. This is something that needs to be addressed immediately," the Speaker emphasised.
Pix by Ruwan Walpola