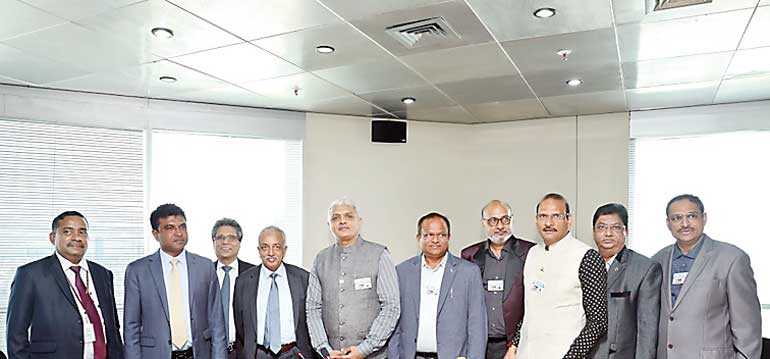 From left: Ministry of Development Strategies and International Trade Secretary S.T. Kodikara, Deputy Minister Nalin Bandara, BOI Chairman Mangala Yapa, Minister Malik Samarawickrema, SGCCI President Ketan Paragli Desai and members of the delegation from Gujarat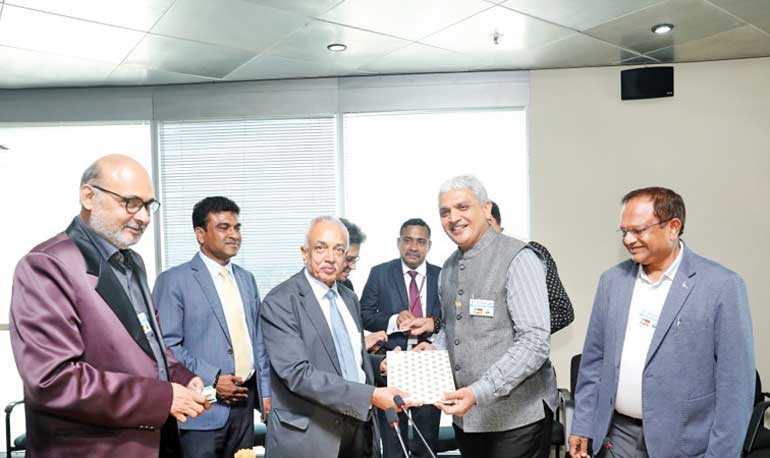 Group offers increased prospects of heightened Indian investment and trade
Representatives of the Southern Gujarat Chamber of Commerce (SGCCI) were hosted by Development Strategies and Investment Promotion Minister Malik Samarawickrama at his ministry for an interactive discussion.

Development Strategies and International Trade Ministry Secretary S.T. Kodikara, Board of Investment of Sri Lanka Chairman Mangala Yapa and senior officials from the BOI and the ministry were also present at the discussion. Discussions centered on enhancing Indian investments and trade, particularly from the Southern Gujarat area to Sri Lanka.

This visit came in the wake of a recent official mission to Gujarat by Minister Samarawickrama and a BOI delegation which included Yapa, senior BOI officials and leading local entrepreneurs. The minister also held discussions with the Chief Minister of Gujarat.

Gujarat is the world leader in the production (35%) and export (60%) of cotton. The state is also the third-largest producer of denim material. Therefore there are considerable possibilities for cooperation with Sri Lanka's vibrant apparel industry.

The business delegation consists of seven members, including the past and the present President of SGCCI. It was led by current President Ketan Paragli Desai. The delegation, whose members are engaged in engineering manufacturing, jewellery, organic fertiliser, solar solutions, diamond cutting and polishing as wells as in trading, expressed a keen interest in investing in projects in those sectors in Sri Lanka.

SGCCI is a leading chamber that has over the years built strong international connections and signed Memoranda of Understanding with business chambers in the US, Indonesia and Malawi. The SGCCI is one of the oldest and the most reputed Chambers of Commerce of India. It is the oldest apex body of Gujarat with a total focus on growth and development of trade and industry in the Southern Gujarat Region.

SGCCI has been consistently working to provide quality service to its 9,000 strong membership, to grow qualitatively and quantitatively to make the South Gujarat region a powerful economic force capable of taking on global challenges by meeting the most discerning world standards. While welcoming the visiting delegation, Minister Samarawickrama briefed the Gujarat side on the efforts made by the Sri Lankan government to build an economic climate which is investor friendly. He commended the capabilities of the members of SGCCI and urged them to strengthen their ties with Sri Lanka.

Given the large scale of many of India's enterprises, the minister stressed the need for Indian and Sri Lankan enterprises to work together in setting up and creating greater opportunities in the MSMEs and the SMEs sectors in the country.

The members of the Gujarat delegation stated that they would promote the positive message that Sri Lanka is safe to visit and to do business to their 9,000-strong membership and other stakeholders in India and across the world.