IPS Executive Director Dushni Weerakoon recently noted that the South Asian region has a youth dividend that can be used to countries' advantage, by providing the right kind of education and job opportunities. However, failing to do sowould prove to be a serious challenge, as there is nothing worse than a large cohort of disillusioned youth, she warned.

Dr.Weerakoon made these remarks at the Conference of 'Economic Development in South Asia', co-organised by the Institute of Policy Studies of Sri Lanka (IPS) and the Monash University, Australia.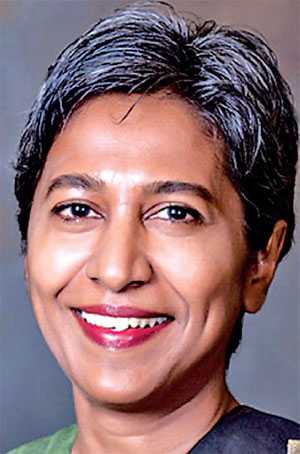 IPS Executive Director Dushni Weerakoon
She added that, while South Asia has been touted as the fastest growing region, the region is riddled with political volatility and as such, is prone to higher socioeconomic pressures.

Meanwhile, delivering the Keynote Address, Ministry of Foreign Affairs Secretary Ravinatha Aryasinhawarned that the South Asian region needs to locate itself in a reality where there is very little negotiation taking place with respect to multilateralism. As such, many countries are turning to regionalism. However, Sri Lanka has not fully realised the opportunities available in the region, Aryasinha highlighted.

"From a Sri Lankan perspective, we have not exploited opportunities in the broader Asian region; in addition to the Eastern parts of Asia, we should be looking to the West as well. Sri Lanka should also pay attention to the African region," he said.

Aryasinha also lamented that there is very little concerted effort in SouthAsia to study each other's countries, adding that understanding the neighbourhood is very necessary to progress as a region. The academia and governments need to find modalities for scholars to have a good grounding in each other's countries, he further said.