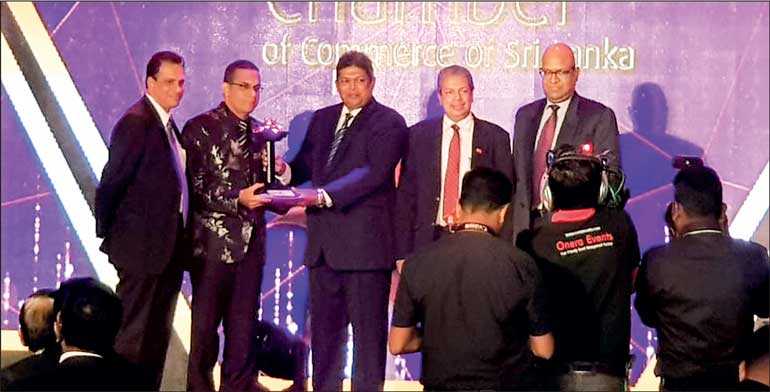 South From left: South Asia Textile Director/COO Kenneth Wijesuriya, MD/CEO Prithiv Dorai and CFO Priyantha Hapuarachchi receive the award from officials
---
SOUTH Asia Textiles Ltd., a leading Sri Lankan textile manufacturer specialised in producing exceptional quality weft knitted fabric, recently announced that the company was the recipient of the Gold award in 'Manufacturing – Apparel, Textile and Leather Products Sector' category at the prestigious National Business Excellence Awards (NBEA) 2018.

Commenting on his company's Gold award-winning performance, South Asia Textiles Ltd. Managing Director/Chief Executive Officer Pritiv Dorai stated, "Winning the top award in our sector for business excellence at NBEA in 2018 is indeed a high honour for us. Our team is very proud to continually raise the bar in the Apparel and Textile industry locally, while at the same time helping to elevate Sri Lanka's profile among the leading global client brands that count us as their trusted supplier."

South Asia Textiles, a subsidiary of Ambeon Holdings PLC, commenced its commercial operations in 2004. Strategically located in close proximity to garment manufacturing units and export processing zones that manufacture high quality garments for both local and international clients, South Asia Textiles maintains its manufacturing dominance through its modern manufacturing plant that produces exceptional quality weft knitted fabric.

"One of Sri Lanka's top suppliers of textiles to global brands, South Asia Textiles is a true cornerstone of our highly diversified Group. The fact that South Asia Textiles has been honoured for business excellence at NBEA 2018 is further testament that our efforts to future proof our business model has been appreciated by our peers. I would like to extend a heartfelt thanks to the National Chamber of Commerce of Sri Lanka for this strong validation for our work," stated Ambeon Capital PLC and Ambeon Holdings PLC Group Managing Director/Chief Executive Officer Murali Prakash.

The company also specialises in knitting, dyeing, finishing, printing, brushing, sueding and preshrunk fabric for leading global brands such as Victoria Secret, Next, Marks & Spencer, Tesco, Calvin Klein, Decathlon, Levi's, Hugo Boss and Adidas. South Asia Textile's strategic location, attention to detail, superior levels of client servicing and modern technology continues to assure these global giants that it is a credible Sri Lankan source for quality textiles that maintains the highest international standards while, at the same time, supplying products fast via short lead times.

With an experienced management team at the helm, the company continues to bring in new innovations, fabric solutions, value added products and finishes that meet the exacting requirements of leading global designers and brands. Meeting the challenges and demands of the global fashion industry, the company continues to attract new customers, maintaining quality and service parameters and focusing on growth through operational and cost efficiencies that result in sustainable benefits for years to come.