From left: Moderator Eng. Mevan Gunathilake, Rocell Ceramics Lanka Managing Director Aravinda Perera, Chamber of Construction Industry Sri Lanka President Eng. Major Ranjith Gunatillake, University of Colombo Senior Professor – Economics Ranjith Bandara and Board of Investment Director Ranjan Sibera

Participants at the event
---
University of Colombo Senior Professor of Economics Ranjith Bandara pointed out that the reason for the current crisis in Sri Lanka's construction industry was the country's slow economic growth.

He expressed these views at a panel discussion themed 'Way Forward For the Construction Industry Crisis in Sri Lanka,' organised by the Ceylon Institute of Builders (CIOB) at the Organization of Professional Associations of Sri Lanka (OPA) recently.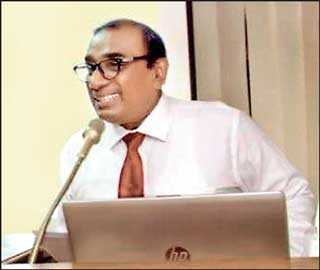 CIOB President Dr. Rohan Karunaratne addressing the gathering


The other speakers sat the panel discussion included Chamber of Construction Industry Sri Lanka (CCI SL) President Eng. Major Ranjith Gunatillake, Board of Investment (BOI) Director Ranjan Sibera and Rocell Ceramics Lanka Managing Director Aravinda Perera.

The event was well attended and saw the participation of an impressive gathering of key stakeholders and professionals representing construction industry as well as various other industries. The panel discussion was moderated by Eng. Mevan Gunathilake. Kelani Cables Ltd., ESNA Allied Enterprises Ltd., Frigi Engineering Ltd. and Nawaloka Construction Ltd. were the main sponsors of the event.

Prof. Bandara further stated that Sri Lanka's current economic growth rate had dropped to 3.5% and not only the construction industry but other key industries had also taken a fairly big hit due to economic slowdown in the country.

Highlighting the reason behind hosting the event, CIOB President Dr. Rohan Karunaratne said: "The construction industry of the country is currently facing a huge crisis and its contribution to Gross Domestic Product (GDP) has come down to 6% from 10% in recent times. This clearly indicates that Sri Lanka is falling behind compared to its regional peers. As a responsible organisation, we at Ceylon Institute of Builders firmly believe that it is our duty to find proactive solutions to get the industry out of the current state. The main purpose of hosting this event is to get a clear understanding of the current status of construction industry in Sri Lanka and come up with solutions to redress the existing issues. We will then present our proposals to the authorities."

Speaking at the event, CCI SL President Eng. Major Ranjith Gunathilake pointed out that dominance of large-scale foreign companies in Sri Lanka's construction sector may bring about collapse of local companies. He stressed that it was acceptable to allow such companies to operate in Sri Lanka with the hope of getting their expert knowledge and financial strength, but the Government should give due recognition for local companies and come up with new guidelines and policies to protect the local companies from competition.

Sibera said: "Construction cost per square foot in our country is very much higher than regional peers, due to high taxes, high raw material cost, labour cost and waste, etc." He also said that foreign investors tended to pull out and invest in other countries in the region due to political instability in the country.

Perera pointed out that in light of the prevailing conditions in the industry, demand for construction materials had decreased and this would affect a number of suppliers and subcontractors in a big way.

The Ceylon Institute of Builders is an organisation where a group of most illustrious construction professionals and builders of Sri Lanka advocate for the betterment of the construction industry.