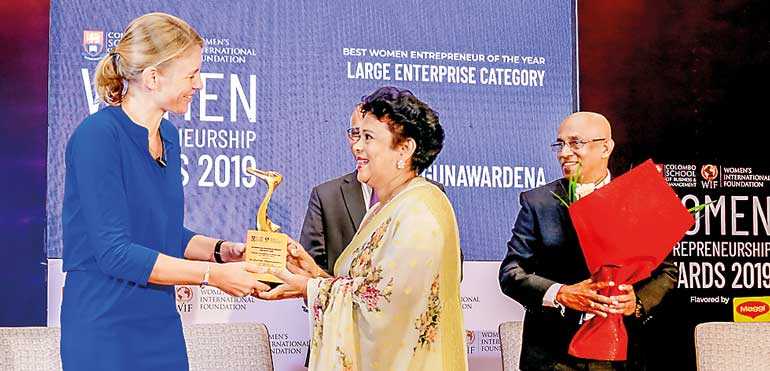 Netherlands Ambassador to Sri Lanka and Maldives Tanja Gonggrijp rewarding Shyamalie Wijegunawardena of Spring & Summer the Number 1 Female Entrepreneur in Large Business Category
---
Spring & Summer Fashion Collection Ltd. Co-Founder Shyamalie Wijegunawardena was recognised as Number 1 Female Entrepreneur in the Large Business Category at the International Conference of Women's Entrepreneurship (ICSE) on 4 December 2019 at Marino Hotel, Colombo, Sri Lanka.

Organised by the Women's International Foundation (WIF) and Colombo School of Business and Management, the event recognises women who identify opportunities, take initiatives and risks to make a profit; solve a social problem; or to innovate. The two-day conference which began on 3 December 2019 hosted over 300 attendees and explored the national and regional experiences of female entrepreneurs, whilst identify means through which professionals and management institutions can play a role in the implementation process of sustainable development goals. Wijegunawardena noted on the recent award, "The reason we applied for such an accolade is to inspire the women of Sri Lanka. Women have a lot to bring to the table. Empathy – which helps you manage a large team; a sense of responsibility – where the etiquette, meticulous detail and care that one would use to run a business is similar to the way in which she would manage her household; and attentiveness to the community and environment around you, supporting them and giving back as you cultivate success."

The key pillars of the ICSE 2019 on Women Entrepreneurship is to create opportunities, breaking barriers and to ensure the sustainable processes of women's empowerment. Through the strengthening of cooperation between national and regional women's initiatives, exploring gender based challenges towards productivity and creating a common platform, WIF together with the Colombo School of Business and Management ensures the growth in the role and contribution of women professionals at national and regional level.

Spring & Summer was founded in 1995 by Daya and Shyamalie Wijegunawardena​. The clothing brand, at present has six major outlets in Wattala, Nugegoda, Maharagama, Panadura, Colpetty, and Bambalapitiya, and is available online. As one of Sri Lanka's leading retail brands Spring & Summer has 85% of its products designed and manufactured locally.