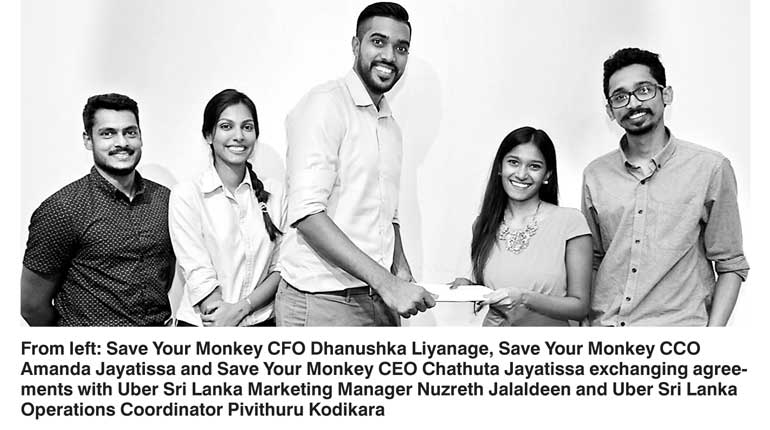 Save Your Monkey, Sri Lanka's pioneering insurtech company, recently partnered with Uber Sri Lanka to offer their customers a variety of exciting value added services. As a result of this latest tie-up between two of the country's most trending startups, Save Your Monkey customers will now be eligible for a whole new set of benefits when travelling the roads of Sri Lanka.

With this partnership, customers will be entitled to a free Uber ride in the case of a road side accident at any time of the day throughout the year and will also be entitled to a discount on their first two Uber rides.

Expressing his thoughts on this latest addition to their portfolio of partnerships, Save Your Monkey Founder and CEO Chathura Jayatissa said, "Since we started our operations earlier this year, we have been working hard to offer our customers the best deals that they could possibly get as a result of staying connecting to us. Our partnership with Uber Sri Lanka is yet another fantastic partnership our customers can reap benefits from. Uber is an internationally renowned mobile application and tech service that revolutionised the taxi industry. This makes them a fitting match for Save Your Monkey, which is also a tech startup trying to innovate and change the game in the insurance industry of Sri Lanka."

"Our partnership with Uber will not be limited to free rides during accidents and discounts on the initial two rides; as we are working with them to bring more benefits to Uber users in the near future," he added.

Uber, the world's largest on-demand ride sharing company was launched in Sri Lanka a little over 1.5 years ago. Since its introduction to the local market, the application rapidly became a favourite go-to option for those looking to hail a ride; because of its convenient and reliable service.

Also speaking on the partnership, a spokesperson from of Uber said, "We are extremely pleased to partner with Save Your Monkey to offer Sri Lankans fabulous deals on the road. Uber is committed to revolutionising transportation both here and globally, and we are happy to partner with tech companies like Save Your Monkey who are also disrupting the insurance sector through innovative thinking and approaches."

Saveyoumonkey.com is the brainchild of three young entrepreneurs driven by a passion to make an impact. With the clear vision of transforming Sri Lanka's insurance industry into a more technologically advanced and progressive one, Save Your Monkey has successfully laid the foundation for their mission within the last few months they were in operation. As a result they have collaborated with a number of insurance companies such as HNB General, Sri Lanka Insurance, Janashakthi, LOLC Insurance, Orient Insurance, Amana Takaful Insurance, Fairfirst, Ceylinco VIP and Continental Insurance. Additionally, the company has also partnered with top-tier automobile servicing, transport, banking, technology and communication firms like Exide, Smart Wheels, Laugfs Car Care, Autodrome Plc and NTB Amex to provide value added services to its clientele.