A farewell dinner was organised by the Sri Lanka – Russia Business Council of the Ceylon Chamber of Commerce recently at the Colombo Swimming Club. The event was organised to bid farewell to Alexander Karchava and in recognition of the tremendous services rendered during his tenure as the Patron of the Council.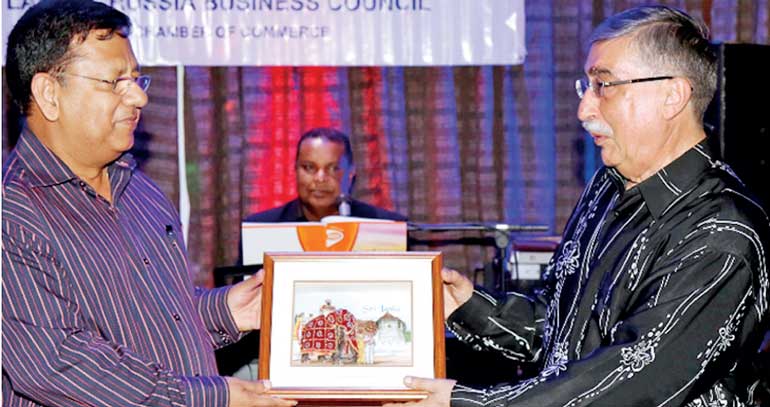 Karchava completed his tenure of service in end of August. From the first day in his capacity as the Ambassador of Russia in Sri Lanka, Ambassador Karchava has been actively involved in promoting economic ties between the two countries. He has been meeting members of the council, members of the Sri Lankan business community at large and visiting Russian business people.

Isuru Samarasinghe, President of Sri Lanka – Russia Business Council addressing the gathering stated that, "Since the day he assumed duties as the Ambassador for Russian Federation he has been a great supporter and a dear friend to Sri Lanka Russia Business council. He was a very results-oriented person and encouraged us to achieve the maximum possible. And the council is very grateful for the splendid co-operation extended in furthering the objectives of the council and also for his willing participation in many of the events during his tenure of service." Alexander Karchava addressing the gathering stated that he has been working in many Asian countries such as Thailand, Singapore and Malaysia and has seen many different cultures and associated with people, but people in Sri Lanka is different from all of them and mentioned that how much he likes people and culture here in Sri Lanka. He also thanked the Sri Lankan community for their friendship and Sri Lanka – Russia Business Council for the support rendered in his tenure.

During the speech of Immediate Past President of the SLRBC Hiran Karunaratne said, "Alexander Karchava is a true friend of Sri Lankan people and great support was received for the Council from the Embassy and himself in his tenure with us. We are very much thankful to him and with warm gratitude we recall his friendship and assistance provided. As the Patron of the Sri Lanka Russia Business Council he guided and supported us staunchly, constantly encouraging us while pointing out areas for improvement."

The Sri Lanka Russia Business Council presented a token to Karchava in appreciation and recognition of his unstinted support to the council.


Key officials from Russian Embassy, Russian Cultural Centre and as special guest Dr. Rohan Pethiyagoda, Chairman Sri Lanka Tea Board were present at the event. The members of the Executive Committee of Sri Lanka Russia Business Council and the member of the council also participated at the farewell.