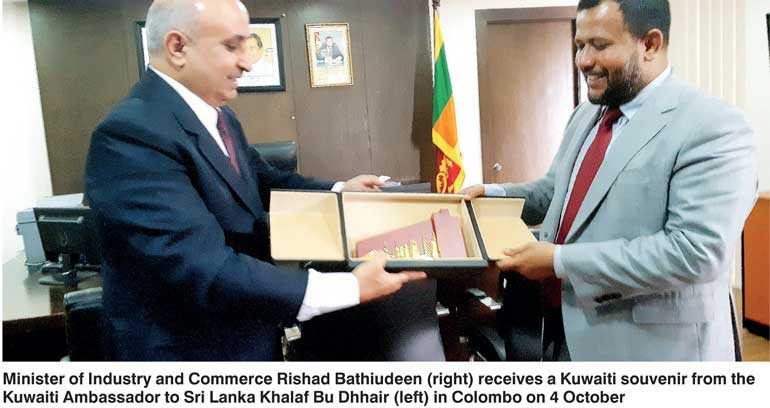 After a hiatus exceeding two decades, Sri Lanka is reviving bilateral trade with the second wealthiest economy in Gulf this week.

"We are reviving the Sri Lanka-Kuwait Joint Trade Committee after 21 years. This shall be a new turning point in the long-standing Kuwaiti-Sri Lanka relations," said Minister of Industry and Commerce Rishad Bathiudeen on 4 October, addressing the Kuwaiti Ambassador to Sri Lanka Khalaf Bu Dhhair during a preparatory discussion on the Second Session of Sri Lanka-Kuwait Joint Trade Committee that will open in Kuwait on 9 October.

A 13-member strong Sri Lankan official delegation led by Bathiudeen, with officials from the Ministries of Industry and Commerce, Finance, Megapolis Development, Foreign Affairs, Higher Education, as well as State agencies (Foreign Employment Bureau, DoC and BoI) is scheduled to take flight on 8 October.

Kuwait is the second wealthiest country (per capita at $ 30,000) in the Gulf region after Qatar (IMF).

According to the Department of Commerce, an Agreement on Trade between Sri Lanka and Kuwait was signed in April 1994. The First Session of Sri Lanka-Kuwait Joint Committee Meeting was held in Colombo in March 1997.

"Kuwait is the 49th import partner of Sri Lanka while Sri Lanka is ranked as 82nd partner in Kuwaiti import basket by 2016. These data show there is great but unrealised bilateral trade potentials," Bathiudeen said.

Sri Lanka's total trade with Kuwait which was at $ 46.68 million in 2016 and has increased by 4% to $ 48.56 million in 2017. Last year's total Lankan exports to Kuwait were at $ 33 million while imports totalled $15 million. Overall trade between the two countries peaked to $ 88 million in 2011 which drastically declined thereafter due to the drop in importation of petroleum oil from Kuwait.

"This will be an important meet for both sides on trade and investment development. In fact this meeting with Sri Lanka is very important for us," said Bu Dhhair.

The Kuwait Chamber of Commerce and Industry (KCCI) and more importantly, the powerful, world's fourth largest sovereign fund Kuwait Investment Authority (KIA) also will be there.