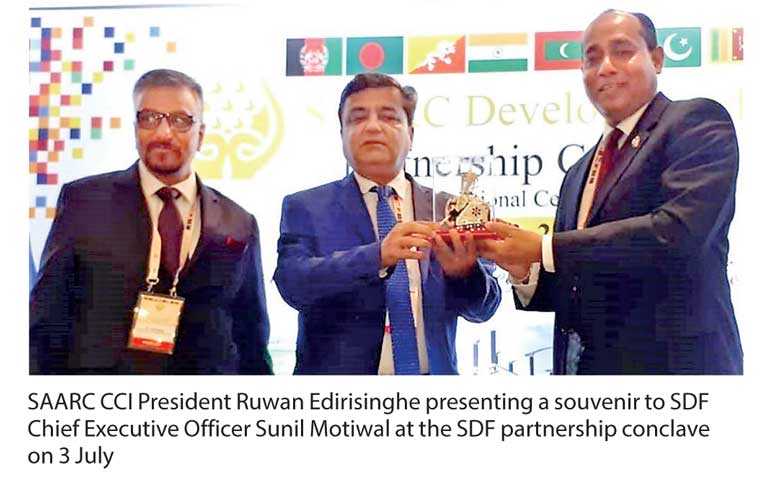 A delegation led by SAARC Chamber of Commerce and Industry (SAARC CCI) President Ruwan Edirisinghe attended the SAARC Development Fund Partnership Conclave 2018 on Regional Integration through Project Collaboration and Investments.

The event had strategic and regional importance in South Asia. The SAARC Development Fund (SDF) Partnership Conclave 2018 was held on 2 and 3 July at the International Centre, New Delhi, India. The conclave aimed to produce strategic growth in the South Asia region through project collaboration and regional integration. It proposes to:

1. Solicit cross-border project co-financing under the social, economic and infrastructure windows of SDF in SAARC member states.

2. Build partnerships with various organisations for fund mobilisation and investments in SAARC member states.

Speaking at the event, SAARC CCI President Edirisinghe highlighted the importance of improving intra-regional trade within South Asia to reduce poetry and boost job creation and said the SDF was the main instrument that would facilitate economic cooperation via financial connectivity within the SAARC region.

For the conclave, NITI Aayog CEO Amitabh Kant, representing the Indian Government, was the Chief Guest.

SAARC CCI is the apex body of the South Asian Association for Regional Cooperation (SAARC) and seeks to promote economic cooperation in South Asia and has augmented the efforts of SAARC to achieve the milestones of regional integration.

SAARC CCI believes that intra-regional investment, intra-regional trade and joint ventures among SAARC member states are the way forward to address the key challenges the region faces such as poverty and job creation. SAARC CCI is committed to unleashing the true potential of the SAARC region.

The SDF is currently implementing 12 regional projects with more than 70 being implemented in all the eight SAARC member countries under social window funding.

Currently, the two main projects finalised by SDF are a waste-to-energy project in Sri Lanka involving the participation of India and a hydropower scheme in Nepal with the participation of Bangladesh and India. As per SDF Chief Executive Officer Sunil Motiwal, the two projects entail a cumulative investment of $ 30 million. Other potential regional connectivity projects are under SDF's active consideration to co-finance SAARC member states. Therefore, SDF is well poised to contribute significantly in achieving its developmental role in the SAARC region along with SAARC CCI.