There is no second guessing or gainsaying with regard to the compelling need for a state-of-the-art, robust intelligence and rapid response security infrastructure, said Securities & Exchange Commission Chairman Chartered Accountant Ranel Wijesinha.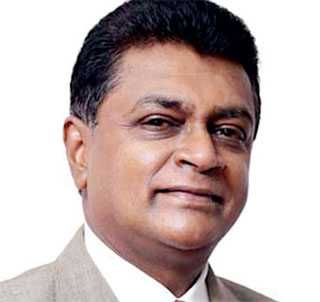 SEC Chairman Ranel Wijesinha
Visibly grieved by the tragic and unprecedented events that took place on Easter Sunday, he continued: "As a stakeholder of the country, I expect an immediate review and a repositioning of this infrastructure which has to be well resourced in terms of people and technology and international cooperation. The heart rending, simultaneous and multiple events generated unprecedented messages of well-wishes and support from multiple nations, multilateral and bilateral organisations. These must now be leveraged fully and swiftly, before these heart-warming and encouraging sentiments lose currency and become of academic value."

"My current responsibility as the Chairman of the SEC heightens my expectation of the Government to establish effective personal safety and security measures; robust internal and external security infrastructure at the country's key installations, whether they are dams in the Mahaweli; key electrical generation plants; water and telecommunications infrastructure; ports and airports; highways and railways; the Parliament and other infrastructure. At the same time, domestic or international terrorists or triumphalists and proponents of internal dissension must all be contained. I have said this before in private and public fora for decades and even written about this in the Daily FT," said Wijesinha.

He went on to say: "This is not the time and place for either blame games or rhetoric but the time for rapid assessments, identification of lapses, inadequacies or breaches, and a design and execution of measures, which perhaps can be as unprecedented as the horrific events themselves."

"I like to take the liberty to share a thought with the community I believe I belong to. That is the community of professionals, regardless of race or religion. Let me say that no representative of the professions, business and civil society should be demotivated, loose interest, and get into the woodwork. To a certain extent that is happening. That should not be the response. That is not being an able representative of this truly blessed country in which we have a proprietary interest. We are equal stakeholders of this nation – whether professional or politician. Therefore our role should be to work smarter, individually and collectively and to overcome our challenges with honesty, integrity and determination. It is only then that we will contribute towards achieving normality and stability for the only country we call home. We can then overcome our formidable challenges, and overcome we will," concluded Wijesinha, clearly sounding more determined and optimistic than most.