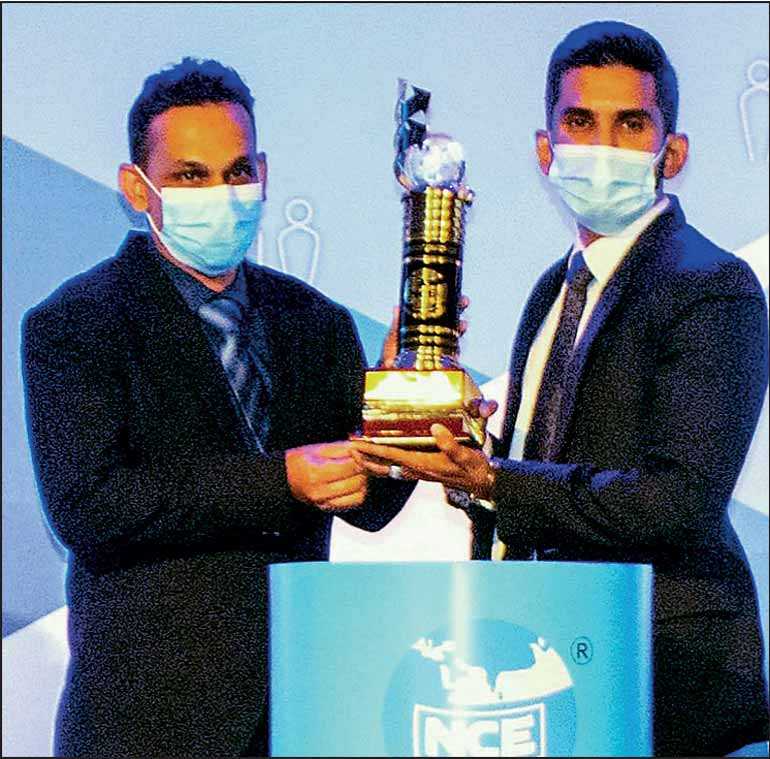 Head of Exports and Marketing Harsha Wicramaratne receiving the award
---
Rancrisp Cashew, the pioneer in the value-added cashew industry and the market leader of premium quality Sri Lankan cashew, proved its excellence once again becoming the Best Value Added Exporter in products category at the 28th Annual NCE Export Awards ceremony. Also, the company bagged the Silver Award for Fresh and Processed Agricultural Exports sector.

NCE Export Awards is the premier awards ceremony conducted by the National Chamber of Exporters, specially designed to recognise and reward outstanding performance of exporters of Sri Lanka. The 28th Annual NCE Awards ceremony was held at Shangri La Hotel on 25 February.

Samantha Thamel, the triumphant MD of Rancrisp Cashew stated, "We are the true pioneers of value adding in the cashew industry. I am proud to say that, this is a valued recognition for our tireless efforts to secure a place in the international market. I thank my staff for their dedication and our loyal customers and partners for their continuous support while remembering my beloved father Eden Thamel who pioneered the painstaking effort of value addition in early 1980s." Rancrisp Cashew manufactures a diverse range of products including high quality cashew products, Cassava Chips, Potato Chips, Taro Chips, Jack Fries, Rancrisp Fruit Pulp and Preparation, Dried Fruits and Vegetables.

Head of Exports and Marketing Harsha Wicramaratne said, "Value addition is the way out for our economy to face the global challenges. Rather than exporting raw materials and earning a little, value addition in any product would bring more revenue, more employment opportunities and potential to expand the international market. As we participate in many international trade fairs, we must understand that we represent our country more than our company."

The main factory of Rancrisp Cashew, at Ja Ela, is the first-ever sophisticated cashew processing plant in Sri Lanka. The company owns another processing plant at Dambulla for manufacturing fruit-based products. Rancrisp Cashew's head office is located at No. 41/3/A, Archbishop Lane Thudella, Ja-Ela (0112231093/0112 245159). The company runs 21 sales outlets in key cities while their products are available through major supermarket chains.

Rancrisp Cashew (www.rancrisp.lk) is one of the first cashew manufacturing companies to receive quality certifications such as ISO 22000, HACCP and GMP. Due to its premium quality, milky taste, and authentic Sri Lankan flavour today Rancrisp Cashew is one of the leading pure Sri Lankan cashew exporters to well-established export markets including UK, USA, Japan, Australia, New Zealand, UAE, and the Maldives, etc.