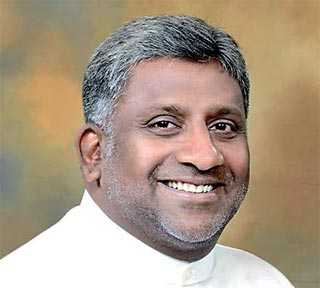 Tourism Minister Prasanna Ranatunga
---
Tourism Minister Prasanna Ranatunga said that the protest against the arrival of Ukrainian tourists to Sri Lanka was either politically motivated or out of ignorance.

He claimed that the opposition tried their best to create baseless fears among the public that the pilot project to bring down Ukrainian travellers will create another COVID wave. However, he said that the Government took every step to ensure that the tourists will not be moved out of the bio-bubble and follow health guidelines.

The Minister made these remarks responding to a question after a Livelihood Development Committee held in Monaragala on Wednesday, 13 January.

Ranatunga pointed out that around 1,200 Ukrainian tourists have so far visited the island under the pilot project, but only two of them have been identified as COVID-infected.

He further stated that all arrangements have been made to officially reopen the country for international tourists from 21 January, rectifying the shortcomings identified in the pilot project.

The Minister also highlighted that over three million people dependant on the tourism industry have been severely affected with no tourist arrivals due to the pandemic.

"Tourism is one of the worst-hit industries due to the pandemic. However, the Opposition is just waiting for an opportunity and they do not care about the sentiments of the people. They like to see industries collapsing, so that they have a reason to point out and brainwash people for the next election. Despite all their deceitful attempts, the Government has proved it wrong. We will assure to take all steps possible to recover the industry and rebuild the country's economy,"

Ranatunga said.