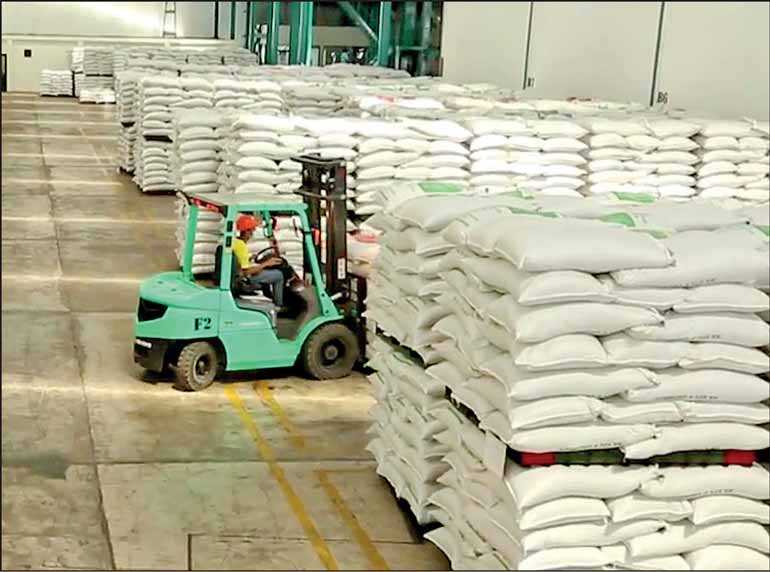 Pyramid Wilmar entered the sugar trading business in Sri Lanka in 2012 and set up a bonded warehouse in 2016. PW uses its bonded warehouse to serve high-end sugar requirements of companies engaged in the food, beverage and confectionery industry
---

Linked to one of the world's largest sugar traders, Pyramid Wilmar Sri Lanka yesterday set the record straight on recent allegations arising from the drastic reduction of the Special Commodity Levy (SCL) from Rs. 50 to 25 cents per kilo.

Sugar is a political commodity given its popularity among masses. Sri Lanka's per capita consumption of sugar is 32 kilos per year or 2.6 kilos per month. The overnight 99.5% reduction in SCL took the industry by surprise and sent shockwaves.

The Treasury recently clarified that by the move the Government voluntarily did forego tax revenue. It was implied that via the move the Government made sugar cheaper to people by Rs. 16 billion and there was no Rs. 16 billion scam, nor profiteering by one company or private sector trade.

Pyramid Wilmar (PW) entered the sugar trading business in Sri Lanka in 2012 and set up a bonded warehouse in 2016 (at that time there were three others doing the same – E D & F Man and Louis Dreyfus, who have since ceased operations, and Sucden).

Wilmar is one of the world's largest edible oil and flour producers and sugar manufacturers and traders. It is part of the highly-respected Kuok Group based in Singapore which also owns the Shangri-La hotels and resorts chain globally.

Wilmar Trading Ltd. wholesales and distributes groceries and related products. The company activities include oil palm cultivation, oilseeds crushing, edible oils refining, sugar milling and refining, specialty fats, oleochemicals, biodiesel and fertilisers manufacturing and grains processing. The Wilmar Group has invested close to $ 1 billion in Sri Lanka in various industries.

PW uses the bonded warehouse to serve high-end sugar requirements of companies engaged in the food, beverage and confectionery industry. It also does forward contracts with these companies supplied at cost plus prevailing duties, setting off differences in contracted exchange rate. Upon periodical requests from the Consumer Affairs Authority, details of sales and purchases are filed with the authority. PW also trades refined and plantation white sugar used by consumers.
Presidential move
On 13 October 2020, the President's Media Division made the following announcement titled 'Tax on essential goods removed':

"With due consideration to the current cost of living and difficulties associated with COVID-19 the Government has removed import duties on essential commodities such as dhal, canned fish, B onions and sugar.

"This will result in reducing the price of canned fish (large) to Rs. 200, a kilo of B onions to Rs. 100 and a kilo of sugar to Rs. 85 from tonight.

"Consumers who purchase goods worth more than Rs. 500 including these essential items from Sathosa will have the opportunity to buy a kilo of dhal at Rs. 150.

"The Coconut Development Board, Kurunegala Plantation Company and Chilaw Plantation Company have increased coconut supply to Colombo. This will pave the way for customers to buy coconut at a reasonable price from Sathosa outlets."

The promise of sugar at Rs. 85 per kilo was made when it was retailing at Rs. 135 per kilo (as against Rs. 100-110 per kilo in early 2020) and the Government was to offer relief to consumers by taking off Rs. 49.75 of Rs. 50 SCL. The SCL was increased from Rs. 33 to Rs. 50 per kilo in May 2020 by the Government.

As at end 13 October 2020 PW at its bonded warehouse had 3,906 tons of sugar cleared at the higher SCL of Rs. 50 per kilo. On 13 October 2020, PW cleared around 1,700 tons of sugar at SCL of Rs. 50 per kilo. In total PW had 7,467 tons (non-duty-paid) of sugar as of 13 October 2020 in its warehouse for its corporate customers.

Of that stock, 75% was delivered to corporate committed sales on request revising the price down by SCL Rs. 49.75 per kilo. This benefit was passed on to corporate clients who are in the beverage and confectionery industry as per sales contract.

When the President's Media Division announced that sugar would be available at Rs. 85 per kilo there were approximately 88,000 tons of sugar or nearly two months of country's consumption available in the market, imported, cleared and wholesaled and retailed at a price inclusive of Rs. 50 per SCL. Only Sathosa was selling at Rs. 85 per kilo.

With traders not wanting to lose out, sugar continued to be sold at the high Rs. 135 per kilo price. As per SCL Law, any change to a previously-imposed SCL can be effected only 30 days after the previous imposition which disabled the Government from re-imposing an import duty immediately.


Early procurement of sugar post reduction of SCL and mid-day Govt. slapping licencing requirement

Around this time ocean freight saw a huge shortage of containers which made regular containers costly and freight expensive. Since SCL on sugar was reduced, PW used its parent's global muscle and secured a vessel to bring new cargo from India. This vessel carrying 26,000 tons of sugar arrived on Sunday 1 November 2020 or 18 days after the reduction of SCL. This vessel load was the second with the first one serviced in May 2020.

A few days prior, as a result of no downward price revision at retail level as well, policy advisors were toying with a counter attack, i.e. bringing import of sugar under licencing scheme. So effective Thursday 29 October 2020 midnight, sugar was brought under licencing by the Controller of Imports and Exports. Next day i.e. Friday 30 October, was a holiday. The licencing decision and imposition took place whilst PW ship was on her way to unload sugar cargo at Colombo Port and berthed only on 1 November 2020.

Thereafter Sri Lanka Customs refused to clear the cargo since sugar imports from 29 October 2020 was under licence and this consignment hadn't been approved by the Controller of Imports and Exports. PW argued that Bill of Lading documents were done long before the licencing regime was introduced whilst Controller too refused to resolve the matter.

PW continued to make a case with authorities for two weeks and finally the matter was resolved with a ship with sugar cargo languishing at anchorage at Colombo Port for 16 days. PW had to pay approximately $200,000 as demurrage.

Incidentally PW wasn't the sole importer of sugar during this period – there had been 14,000 tons of sugar consigned to other importers too (Palligoda Trading, Global Trading, RG Brothers, Amro Sugars, Wilson Trading and Woodland Trading) languishing until the Government took a decision. PW's BL date was 26 October 2020 which was made known to the Imports Controller whilst Customs interpreted the law differently, citing the licencing date was their concern and ship and cargo arrived post.

The matter was resolved and cargo was released after all importers had to pay 5% penalty to Sri Lanka Customs, 0.4% to the Controller on the cargo value and some importers had to pay 2% penalty to the Import Control Department. All other importers were issued licences for the cargo that got held up. The refined sugar component of the disputed cargo is likely to have reached the retail market about 50 days after the original arrival of the vessel at the Colombo Port.

Between 14 October 2020 and 28 February 2021, PW had imported 112,350 tons of sugar, which is only 23% of the total imports, suggesting the rest of the import trade brought down the balance. Of that 112,350 tons of PW, over 60% was re-sold to other importers at small margins to meet their supply constraints as well. These imports were arranged as there were fears of crop shortage in India.

The exchange rate of the US Dollar today is around Rs. 200 whereas in October 2020 it was Rs. 184. With the increase in the exchange rate and the CIF value, the actual price escalation of sugar amounts to Rs. 26 per kilo and if the original SCL of Rs. 50 per kilo was in force, the current price of sugar in the local market would be Rs. 160 per kilo.

PW said its involvement in the importation of sugar is above board and the transparent trading opportunity is devoid of any alleged political allegiances, affiliations or kickbacks. PW also claimed that the company upholds the highest level of ethics and governance in its global businesses including in Sri Lanka.