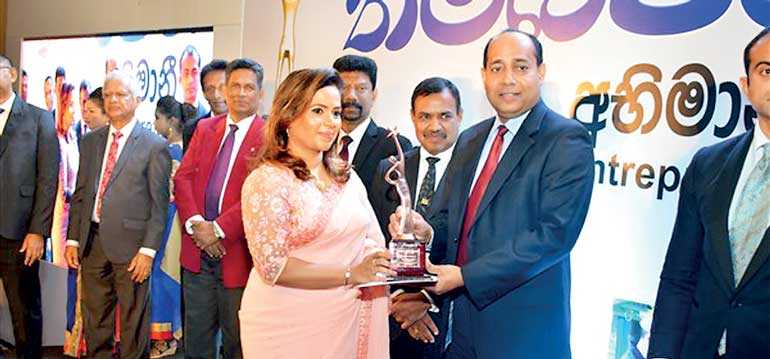 Ruwangi Fernando who built Adeem Uniform of Saudi Arabia into a dynamic employer and a 100% exporter based in the North Western Province won the prestigious Woman Entrepreneur Award 2018 organised by the Puttalam District Chamber of Commerce and held at Suriya Resort in Waikkala recently.

Adeem, which was established 35 years ago in the United Arab Emirates, opened its BOI-registered manufacturing facility in Sri Lanka at the Noorani Industrial Estate in Waikkala three years ago. The company supplies uniforms to its own showrooms in UAE and 70% of its exports are for school uniforms supplied to over 100 schools in the Middle East. Apart from school uniforms the company also manufactures and supplies uniforms to hospitals, militaries, industrial companies and offices.

Commenting on her achievement, Country Manager of the company Ruwangi Fernando said that she was highly thrilled with the achievement to clinch two awards – Overall winner of the women category as well as the Gold winner at the large-scale business of the Wennappuwa AGA Division. The sentiments were echoed by company Chairperson/Director Alia Al Sudairi who voiced her appreciation for the award and to Ruwangi.

Fernando, who heads the entire operation in Sri Lanka, thanked the contributions of the Board of Directors, the management, the customers and above all, the highly-committed and motivated workforce for being able to achieve the award after a short period. For her success, she thanked her father Nelson Fernando, who has been a pioneer in the apparel industry of Sri Lanka since its inception and under whose tutelage she has gained experience for over 15 years.

The event was organised by the District Chamber of Puttalam to encourage the entrepreneurs in the district at a time where many such events are centralised in Colombo.