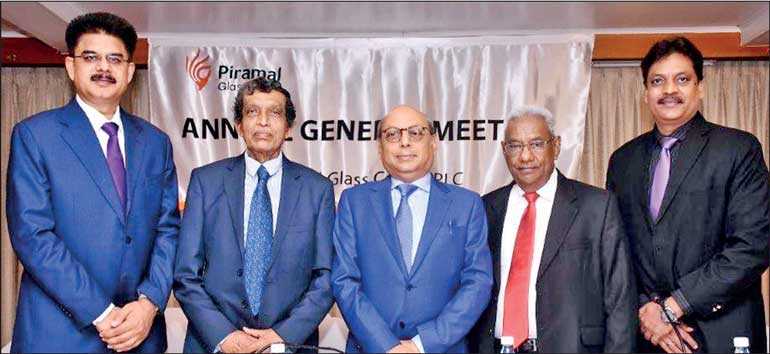 Piramal Glass Ceylon Board of Directors. From left. Sanjay Tiwari - Director PGC , Dr Bandula Perera - Director PGC , Vijay Shah - Chairman PGC , Ranjit Fernando- Director PGC , Sanjay Jain - Executive Director/ COO PGC
---
Piramal Glass Ceylon PLC has announced its results for the half year ended 30 September 2020 with a revenue of Rs. 3,560 m and a Profit After Tax (PAT) of Rs. 316 m, as against the revenue of Rs. 3,527 m and PAT of Rs. 95 m during the corresponding period in the previous year.

In a statement the company said the year started under lockdown situation in the country due to COVID-19 pandemic. The operations commenced with 25% capacity producing glass containers for essential commodities for food and pharmaceutical customers. The operations were back to normal only by mid-May leading to a setback in Q1.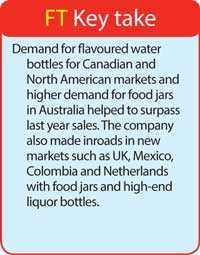 However, the demand started improving from 2Q of the current financial year and we were able to generate a revenue of Rs. 2,230 m as against Rs. 1,942 m of the previous year reflecting a growth of 14.8%. The Profit after Tax stood at Rs. 360 m for the quarter ended 30 September as against Rs. 74 m during the corresponding period in the previous year.

The domestic market witnessed a growth of 20% with sales of Rs. 1,560 m as against previous year similar period revenue of Rs. 1,291 m.

The demand for packaged food witnessed a steep rise due to panic buying by households resulting to higher sales of food jars in the domestic segment during the period under review. The demand for pharmaceutical and agro industries also showed a healthy upward trend. However, the beverage market saw a setback with the restrictions placed on social and festive gatherings.

Export sale is marginally ahead in FY21 2Q with Rs. 670 m as against Rs. 651 m of the corresponding period during the previous year. The export sale is achieved despite limitations in vessel availability for major markets. Even shipments to nearby markets such as India and Pakistan were impacted. However, the demand for flavoured water bottles for Canadian and North American markets and higher demand for food jars in Australia helped to surpass last year sales.

The company also made inroads in new markets such as UK, Mexico, Colombia and Netherlands with food jars and high-end liquor bottles.

"We are hopeful to sustain and further improve the performance, as there is a healthy pipeline for new products and new customers in the international markets. Even the demand from domestic customers remains strong. We shall continue to provide the right product quality with excellent customer service and innovation in new product development," said Executive Director and COO Sanjay Jain.

The company achieved a gross profit of 24% at Rs. 528 m for the F21 Q2 as against 19% at Rs. 368 m in the corresponding period previous year, which reflect a growth of 43%.

The half year closed with a PAT of Rs. 316 m as against Rs. 95 m of the previous year similar period reflecting earning per share of Cents 0.33 as against cents 0.10 in the previous year.