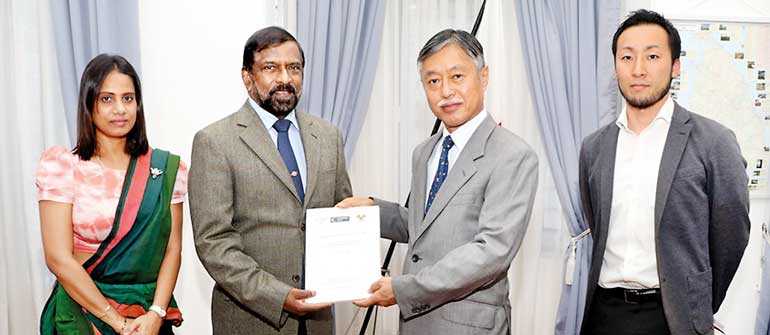 Director of the Centres for Indo-Lanka Initiatives and Law of the Sea of Pathfinder Foundation,

Admiral (Prof.) Jayanath Colombage, together with Research Associate Gayathri Nanayakkara called

on Kenichi Sugunuma, Ambassador of Japan at the Japanese Embassy in Colombo.
Admiral Colombage presented the Ambassador with the outcome report of a recently concluded International Conference on 'Trincomalee Consultations 2018: Secure and Safe Bay of Bengal for Common Development and Prosperity', which was sponsored by the government of Japan. The Conference was organised by Pathfinder Foundation in cooperation with Carnegie India and Vivekananda International Foundation, based in New Delhi.

The Centre for Indo-Lanka Initiatives (CILI) of the Pathfinder Foundation, together with Carnegie India, conducted a successful track 1.5 conference in February 2017 focusing on the topic 'Trincomalee Consultations: Regional Cooperation for Economic Prosperity and Maritime Security in the Bay of Bengal', with the participation of government officials, scholars and subject experts from India, Bangladesh, Nepal, Maldives, BIMSTEC, Japan and Sri Lanka.Based on the outcome recommendations of the Trincomalee Consultations 2017, three separate research projects were conducted with the sponsorship of the Government of Japan. 'Trincomalee Consultations 2018', focused on the broad areas of Regional cooperation demands in the Bay of Bengal Region covering areas such as Cooperation among the countries in the Bay of Bengal Region in maritime transport, aviation and other sectors of economic activity; and Potential for developing Trincomalee as a regional hub for shipping (with special focus on coastal shipping), aviation, petro-chemicals, high-speed rail connectivity, electricity grid connectivity and enhancing people-to-people connectivity.

The objective of the forum was also to highlight challenges in information sharing, cooperative and collaborative mechanisms for a rule based maritime order in the Indian Ocean Region, whilst underlining required mechanisms, infrastructure and technical expertise to promote a stable, peaceful and free Bay of Bengal.

Pathfinder Foundation is in the process of planning another major Indian Ocean security conference in 2019 with the participation of major and minor stakeholders in the Indian Ocean Region.