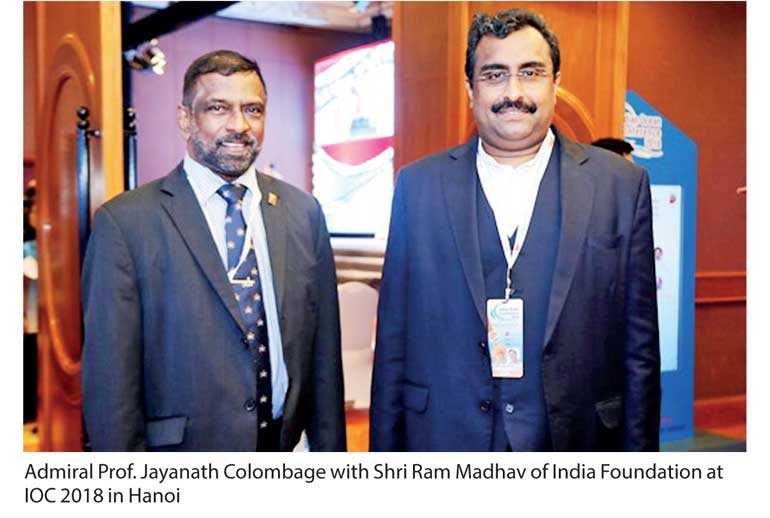 The Pathfinder Foundation participated in the third Indian Ocean Conference, held in Hanoi, Vietnam on 27 and 28 August. The 'Indian Ocean Conference 2018' was organised by Delhi based India Foundation, in collaboration with the Diplomatic Academy of Vietnam, S. Rajaratnam School of International Studies of Singapore and Bangladesh Institute of International and Strategic Studies.

The main theme of the conference was "Building Regional Architectures". Prime Minister of Sri Lanka, Ranil Wickremesinghe delivered the keynote address at the inaugural session. 280 delegates representing 43 countries participated in this year's event and Pathfinder Foundation was represented by Admiral Prof. Jayanath Colombage, Director of the Centre for Indo Lanka Initiatives and Law of the Sea. The conference provided the participants an opportunity to deepen their understanding of the economic and strategic importance of the Indian-Pacific Ocean region focusing on security, trade and commerce and governance, so as to build new regional architectures in the region for shared prosperity.

The general consensus of the conference was that South Asia and ASEAN regions are central to maintaining freedom of maritime commerce in Indo-Pacific region. Hence, there is an urgent need to maintain a rule based maritime order, which is not dominated by a single power. Developing partnerships and sharing of information and burdens are required for the common good of the region. Economic integration, responsible debt financing and transparency are required in this endeavour. Indian Ocean Rim Association and ASEAN need to play an active and constructive role in making the region strong and prosperous. There is a need for an open, multi-lateral regional architecture to address emerging challenges in the Indo-Pacific region taking United Nations Law of the Sea as a basis. Mutual trust and inclusiveness are two very important aspects required.

Sri Lanka as the lead country in formulating policies for maritime safety and security under IORA, together with other members of the joint working, is in an eminent position to make recommendations for developing a regional architecture for maintaining freedom of maritime navigation and overfly in the Indian Ocean.