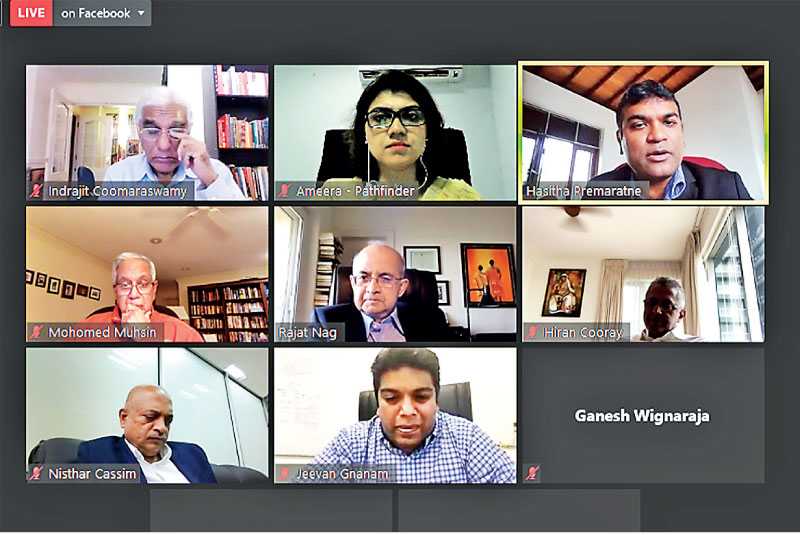 Expert economists and panellists from the business community representing several key sectors
---
Pathfinder Foundation, in collaboration with Washington-based Centennial Group, conducted a webinar titled 'A business perspective on economic transformation in Sri Lanka in the COVID era' with the participation of expert economists and panellists from the business community representing several key sectors.

The forum was moderated by Pathfinder Foundation Senior Fellow and Central Bank of Sri Lanka former Governor Dr. Indrajit Coomaraswamy, together with Centennial Group Emerging Markets Forum Distinguished Fellow and Asian Development Bank former Managing Director General Dr. Rajat Nag.

The purpose of this event was to provide a granular look at business activity in major sectors in Sri Lanka with a view to drawing lessons for business restructuring and formulating public policies for a post-COVID economic recovery. It was structured to focus on the performance and recent developments in the apparel industry, and two service sectors, viz. tourism and information technology, which are pivotal to economic diversification of services-led industries in Sri Lanka.

Pathfinder Foundation Senior Fellow and ADB Institute in Tokyo former Director of Research Dr. Ganeshan Wignaraja made the key presentation, which drew on a recently published ODI paper on economic transformation pathways, 1977-2019 which he co-authored. Four senior business sector representatives from the apparel, tourism, information technology, and finance sectors served as panellists. Brandix Group Finance Director Hasitha Premaratne, Sri Lanka Tourism Advisory Council Chairman Hiran Cooray, SLASSCOM Past Chairman Jeevan Gnanam, and Daily FT Founding Editor and Chief Executive Nisthar Cassim, provided perspectives from the apparel, tourism, IT and finance sectors respectively.

Dr. Wignaraja in his presentation, provided a backdrop of how Sri Lanka moved from subsistence agriculture to a dualistic agricultural sector of plantations and a subsistence economy and thereafter the manufacture of garments, which required development of logistics. However, he noted that in comparison to East Asian nations, Sri Lanka seems to be stuck at an intermediate stage of economic transformation, with little diversification away from apparels to complex manufacturing such as electronics or automobiles. He also highlighted the fact that very few Sri Lankan firms were in global value chains. While the IT and tourism sectors have expanded, economic potential remains largely untapped. The need to look more rationally at regional cooperation and integration with Asia, together with improving coordination and consistency of policy, was also pointed out.

The panellists thereafter presented views on their respective sectors in adapting to transformation in the COVID and post-COVID era. In the discussion that ensued, questions and comments were posed with regard to expansion of the labour force in Sri Lanka and enhancing female participation in the labour force. The reduction of foreign remittances due to the pandemic and return of migrant workers were also addressed, with a question as to its socio-economic impact.

The moderators emphasised the need to pay attention to environmental issues and climate change and highlighted the importance of mainstreaming sustainability issues into planning and budgeting processes. In conclusion, three points as takeaways were suggested: looking ahead, Sri Lanka has to be positional strategically. It has to be 'niche', whether in finance, tourism, IT or any other sector; focus on quality and not try to compete on quantity; and most importantly, consistency. The second being cross-cutting issues of gender, environment and good governance being key to development. Thirdly, regional cooperation and taking advantage of Sri Lanka's important strategic advantage.
---