Prime Minister Ranil Wickremesinghe presided over a ceremony held Saturday at the Samanala grounds in Galle to hand over compensation of nearly Rs. 340 million to tea smallholders of the Galle District affected by the recent floods.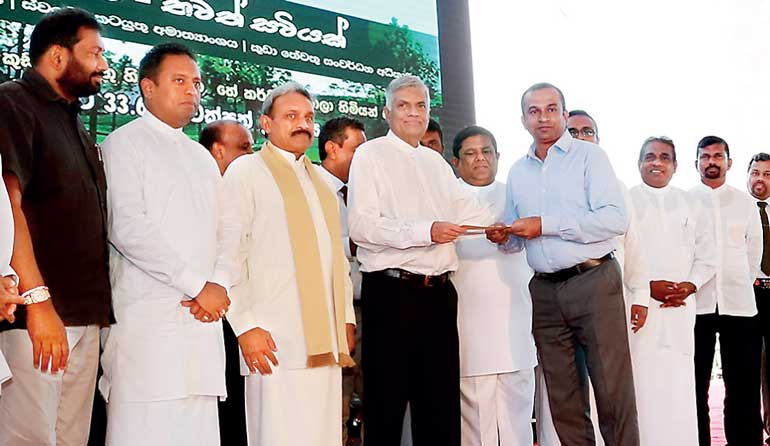 Tea smallholders were the most affected by the floods in May this year as many tea factories were destroyed. Seventeen tea factories have also been affected.

The Government has selected 5,500 tea smallholders for compensation and Prime Minister Ranil Wickremesinghe handed over the relief cheques ranging from Rs. 10,000-Rs. 500,000 to the tea small holders on Saturday.

The compensations was provided together with the Plantation Ministry under the 'Vavili Saviya Gamin Gamata' program.

Speaking at the event, the Prime Minister said the floods had caused massive destruction. Tea was the most affected crop while next in line was rubber.

He said that at the moment the Government was engaged in providing assistance to tea smallholders and it was decided to provide financial relief instead of fertiliser.

Earlier around Rs. 2.2 billion had been provided for fertiliser. Around 75-80% of this amount has been provided. The Premier further stated that he had informed the Finance Minister to issue the remaining amount.

He also said that the UNP, SLFP, SLMC, upcountry Tamil parties and Jathika Hela Urumaya had joined hands in order for them not to become a single entity forever. The aim is for the next generation not to inherit the country's debt burden.

The Premier said that the people would say that the best thing was to work together until the next election. He also said that everyone must commit themselves to joint action to grant relief to the people. The Prime Minister requested the support of all in this endeavour.

Ministers Vajira Abeywardena, Chandima Weerakkody and Daya Gamage and Southern Province Chief Minister Shan Wijayalal de Silva were also present at this occasion.