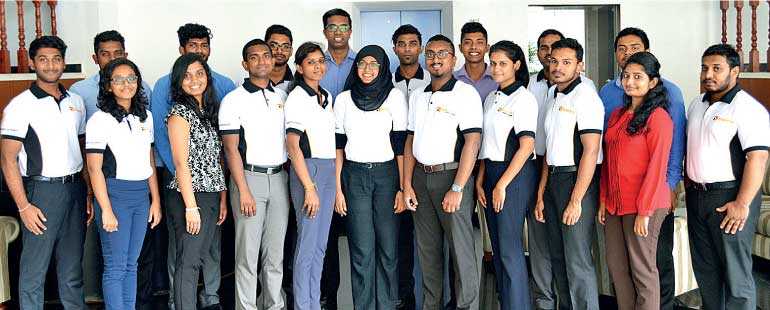 The Omentra team members that are involved in launching the talk show series
Setting themselves apart from the masses of e-commerce companies that have swarmed the country over the last couple of years, Omentra.com with their capacity to constantly evolve to stay ahead of the pack, by pushing boundaries and testing limits, and in being the country's pioneer online procurement service provider, once again trailblazers their way in the market by being the first organisation in the nation to launch their very own talk show series aiming corporate executives.

Close on the heels of celebrating their first year in operation, with over 550 registered sellers and over 1,100 registered buyers on board, Omentra.com explains the rationale of launching this talk show series as serving the market need of having a forum in which their customers can collaborate, engage and exchange ideas on topics that are of importance to the economy of the country and its businesses and industries, with the best experts in the country. Omentra team explains, "This goes in line with the ethos of our organisation in being independent thinkers who look at opportunities of serving our target audience – businesses and business executives that evolve with progressive thinking to move beyond boundaries of business growth and overall economic growth benefit."

Tilted "58 Minutes With"; the talk show series will be based on a 58 minute keynote address on a key topics of interest and a live and interactive Q&A session, followed by an opportunity for corporate level networking.

As such, the first talk show of the series is to be held on 20 June at the Royal College Union Skills Centre Auditorium in Colombo, on the theme of "Being a Disruptive Corporate Executive". The keynote speaker on this topic would be one of the most renowned and disruptive business leaders in Sri Lanka, Ajit Gunewardena, Chairman of Blue Stone Capital, Former Deputy Chairman of John Keells Holdings and Investor and Chairman of PickMe (Digital Mobility Solutions Lanka Ltd).

In line with the topic addressed, Gunewardena is appropriately well placed to speak on this subject through his highly note-worthy engagement and association with one of Sri Lanka's leading start-up success stories – PickMe as well as with his other basket of investments within the start-up industry in Sri Lanka such as oDoc (a real-time healthcare application); thereby proving himself as a truly disruptive corporate executive. The keynote will be followed by a 30 minute Q&A session and conclude with a corporate level networking session.

Omentra.com plans to have similar talk shows once a month, which will address relevant topics of importance that affect the economic landscape of the country.