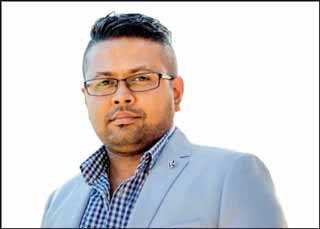 Head of Operations Isura Sirisena
---
It has been over a year since the COVID-19 pandemic forced Sri Lanka and the rest of the world into lockdowns. During this time people found it extremely difficult to get basic necessities delivered to their
homes. Many companies were also pushed to rethink their business models and become innovative in how their products and services reached their consumers.

One of Sri Lanka's pioneering kitchen utensils suppliers, Odiris Engineering used the lockdown period to strategise and come up with a unique 'Gedaratama Odiris' campaign, which took the company's products online with the added ease of customers getting them delivered to their doorstep.

The campaign was spearheaded by Isura Sirisena, the company's Head of Operations and third generation representative of the Odiris family that has been trusted since 1952.

"When the pandemic struck and the markets fell, we as a company still needed to meet our production targets so we continued our manufacturing process. However, when curfew was declared we had to close down all our operations. We had two options, to either tell our staff that they would have to wait it out without salaries or a pay cut because we were suffering financially too, or make best use of our talents and resources and come up with a new strategy. As a responsible organisation that values our people, we chose the second option," said Isura.

A week into the curfews, the company brought together the staff at all levels online and discussed their options. They took stock and found that the missing link was a delivery channel that could get the products to the customers even during curfew.

"My idea was to start deliveries with our coconut scrapers because we suddenly had a lot of people inquiring about this product. Many people said kitchen utensils did not fall in to an essentials category and delivery would not be an option. But I must commend our Production Director Jayasiri Perera, Director Inuka Perera, a close friend Yashan Perera and S.M. Sirisena who pitched in with the social media strategy. We started the process by publishing a simple advertisement on Facebook. This went viral overnight and resulted in a massive amount of WhatsApp messages to my phone," Isuru said.

The next step was to organise a comprehensive and user-friendly website, and then make arrangements for the delivery channel in Colombo. Subsequently delivery commenced to all other districts as well. The orders for coconut scrapers, knives and other utensils came flooding in and as the website evolved online payment gateways were also introduced to make the process smoother.

"COVID was blessing in a way. We managed to reconnect with our end-users by delivering products to their doorstep. It was a huge milestone for us and surprisingly record-breaking sales were achieved. Best of all is that we managed to pay all our staff without a pay cut. We are happy to announce that we are the only coconut scraper manufacturer in Sri Lanka with such a doorstep delivery service at the moment. There is an old saying that there is a silver line to every dark cloud and we certainly saw that," Isuru added.