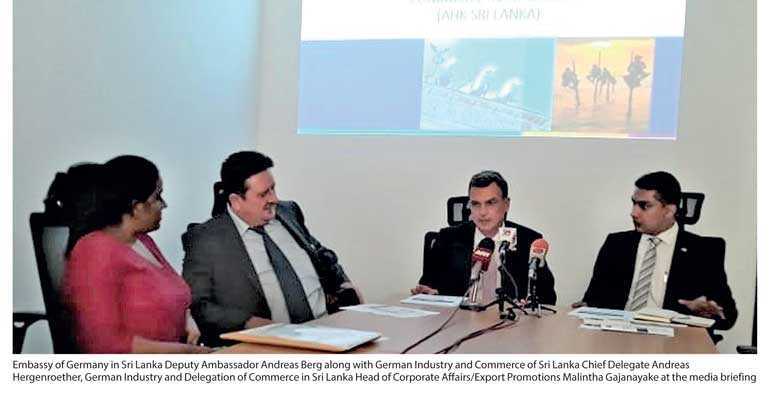 Inaugurated officially on 27 March with the main mission of enhancing bilateral economic relations, the Delegation of German Industry and Commerce in Sri Lanka (AHK Sri Lanka) has become the central platform for German Sri Lankan business relations.

During a press conference held on 30 May at the premises of AHK Sri Lanka in Colombo Chief Delegate of German Industry and Commerce Andreas Hergenroether stated: "The foundation of AHK Sri Lanka is a strong sign that both sides believe in the huge potential of our bilateral business ties. In fact, 2017 was a record breaking year for bilateral trade between our two countries. We are strictly committed to fair business. That's why I would equally like to stress that we support Sri Lankan businesses in the same way as we support the Germans."

AHK Sri Lanka

AHK Sri Lanka is part of the German Chamber Network supported by the Federal Ministry for Economic Affairs and Energy (BMWi). With 142 locations in 92 countries around the world, AHKs together with the Chambers of Commerce and Industry (IHK) represent more than 3.5 Mio. German companies. AHK Sri Lanka provides a variety of services including Market Entry Support, Market Information, Vocational and Continuous Training, Legal Information and Debt Collection, Trade Fair Services and PR. Sector committees covering the key sectors in Sri Lanka such as ITO/BPM, Rubber, Food and Energy are under process of formation to raise awareness, provide an efficient forum to network, advocate and to discuss matters of particular interest and relevance to their sector. During the upcoming months AHK Sri Lanka will conduct several business delegations to Germany. After concluding a successful inbound German Wind Energy delegation in April 2018, AHK Sri Lanka will accompany a dynamic ITO/BPM delegation to Hannover Germany in June.

Furthermore in July a potential business group will be accompanied for a solar conference in Germany. In September a business forum to promote bilateral business relations will be organised in Frankfurt, Hamburg and Berlin will be organised by AHK Sri Lanka. Finally in November a German Sourcing delegation in expected to arrive in Colombo.

Senior Experten

Service (SES)

On 25 March SES and AHK Sri Lanka signed a cooperation agreement. Since then SES in Sri Lanka is represented by the Head of Corporate Affairs of AHK Sri Lanka Malintha Gajanayake. Senior Experten Service (SES) – the Foundation of German Industry for International Cooperation – is the largest German volunteer placement organisation for skilled and management professionals. While focusing mainly on private companies, SES support may also be available to public institutions, authorities and vocational training institutions. SES assignments mainly take place in developing and emerging countries. SES works according to demand and need. It responds to enquiries from clients, checks their requests and concludes separate agreements with the client and the expert.

German-Sri Lankan economic relations are at a high record high

While Sri Lankan exports to Germany grew by 13% in 2017 to almost 654 Mio. Euro, German exports grew by 81% to almost 571 million Euro, reaching a total bilateral trade volume of 1.25 billion Euro. Sri Lanka raises more and more interests for German sourcing in the sectors of ITO/BPO, food and textiles. German investments in the apparel industry, building materials industry, industrial gas production, precision technology and lately in the insurance sector are underlining the country's diversified opportunities.