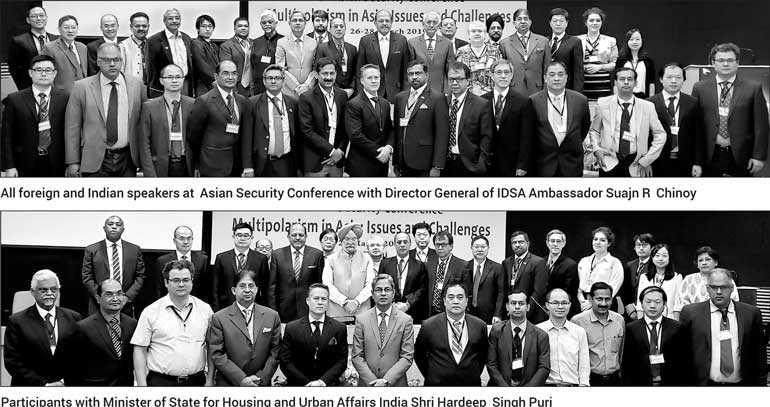 Pathfinder Foundation participates in 20th Asian Security Conference in New Delhi
Indo-Lanka initiatives and Law of the Sea of the Pathfinder Foundation (PF) participated in the 20th Asian Security Conference in New Delhi. The conference was the annual flagship event of the Institute of Defence and Strategic Analyses (IDSA), a premier think tank and research centre based in New Delhi. This year's theme of the Conference was 'Multipolarism in Asia: Issues and Challenges'.

The Director of Centres Admiral Prof. Jayanath Colombage represented the PF. The IDSA is a non-partisan, autonomous body dedicated to objective research and policy relevant studies on all aspects of defence and security. Since its inception, IDSA has served as a forum to debate important aspects of national and international security. Its mission is to promote national and international security through generation and dissemination of knowledge on defence and security related issues. This year's Asian Security conference was attended by scholars and subject matter experts from 20 countries with more than 55 papers being presented.

The Asian continent, home to 60% of humanity, high economic growth rates and a burgeoning middle class and markets, with some of the highest military expenditures in the world, is in a state of flux. Asia is increasingly being defined in the broader geographical context of the Pacific and Indian Oceans through which pass the key Sea Lanes Of Communications (SLOC) for energy, raw materials and trade. Freedom of navigation, over-flight and commerce are of growing significance.

The economic fulcrum has shifted towards Asia in recent years. China's economic growth is being replicated in varying degrees by others in Asia over extended periods. India has now emerged as one of the fastest-growing economies in the world. Asia, however, has fallen short in building a credible security architecture. Infrastructure and connectivity initiatives are increasingly shaping the economic and political discourse in Asia, with renewed debate on finance to meet strategic ends.

Amidst these changes, regional transformation is leading to speculation about the future of power distribution in Asia. The 'Asian Century' appears inevitable but the question remains if it will be unipolar or bipolar or multipolar in character. What future will countries such as China, India and Japan opt for? What role will other regional countries play? What are the key interests of external powers that have a traditional presence or alliances in the region? Power in Asia remains fractured at various levels, marked by a lack of consensus.

A 'multipolar Asia' essentially, presupposes the presence of multiple powers with significant capabilities and influence, equipped to take on responsibilities and respond to emerging challenges and threats with a degree of strategic autonomy. The US is reassessing its presence and commitment to Asia at a time when China has expanded its footprint, including in the maritime space. Trade frictions between US and China and their divergent visions for the future of the region have encouraged hedging by other regional actors.

Traditional and non-traditional security challenges such as economic and military competition, climate change, cyber threats, terrorism and energy security confront the region and act as drivers for the development of interdependent collaborative structures promoting pluralism.

Admiral Prof. Jayanath Colombage presented a paper titled 'Sri Lanka and the Maritime Security Order in the Indian Ocean'. Admiral pointed out that Sri Lanka has suffered from the worst form of maritime terrorism and crime for a prolonged period and has gained valuable expertise in combatting the same. He also highlighted the need to develop maritime related infrastructure with the aim of achieving Sustainable Development Goals by 2030 and stressed upon to need for an internationally accepted rules based maritime governance as a precondition to maintain maritime security so as to provide freedom of navigation, over-flight and maritime commerce.