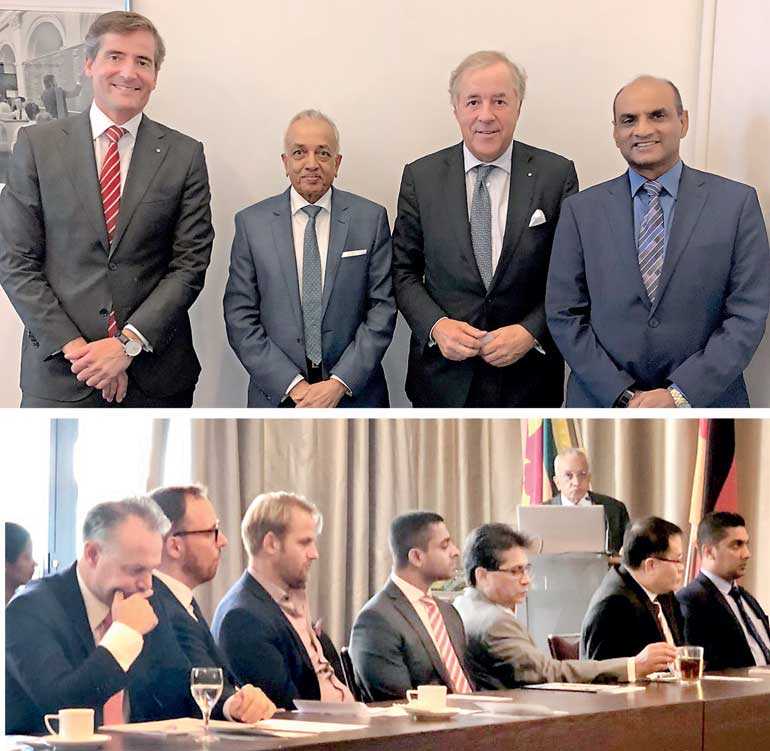 The Ministry of Development Strategies and International Trade, together with the Board of Investment, Export Development Board, and AHK Germany, led a successful investment and export promotion visit to Germany last week.

During the three-day, three-city promotion mission led by Minister Malik Samarawickrama, Sri Lanka's interests and capabilities in the trade and investment arena were showcased to a range of German and European investors ranging from international logistics players, high-end equipment manufacturers, to importers of processed products.

The delegation also comprised a private sector team drawn from apparels, logistics, real estate, and automotives. For the first time in history in the country, a Sri Lankan tech startup was also part of the official delegation. Sri Lanka's Ambassador to Germany Karunasena Hettiarachchi also participated in the meetings.

A business forum was conducted in each of the three cities of Frankfurt, Hamburg and Berlin, during which Samarawickrama as well as BOI Director General Duminda Ariyasinghe and EDB Chairperson Indira Malwatte addressed the audiences of German investors on the investment opportunities in Sri Lanka and proactive facilitation by the Government.

In his address to the participants, Samarawickrama stated: "German companies can enjoy the benefit of being located in a strategic geographic location, from which you can reach out to India, South Asia, East Asia, as well as Africa and the Middle East. With our continuing focus on business-friendly reforms, we will always be there to help you to set up and operate smoothly."

He emphasised that German companies investing in Sri Lanka could take advantage of the country's Free Trade Agreements giving preferential access to India, Pakistan, and the European Union and soon to Thailand and China.

In addition to the forums, the delegation held a series of targeted one-to-one meetings with interested German investors in order to provide them with a deeper understanding of the opportunities and the business climate. Meetings were held with top German and European brands like BBraun, Hellmann Logistics, TÜV Rheinland, Siemens, Fresenius, TUI Group, SAP, Heidelberg Cement, Melchers Group, Linde Group, DER Touristik, Allianz and the German Tea Council. During the one-to-one meetings the Minister remarked: "The world has accepted that German companies are trendsetters – whether it is in quality, safety, or technology. We want to attract them to Sri Lanka, to partner with our companies, so that it elevates our entire economy."

Meetings were also held with Germany Trade and Invest (GTAI) to help Sri Lankan firms enter the German market, and with VFI to push for greater sourcing of Sri Lankan products for the German and European market. A discussion was also held with the German development bank KfW/DEG regarding financing of German FDI into Sri Lanka.

In Hamburg, the delegation met with Senator Frank Horch, Minister of Economy, Transport and Innovation of the City of Hamburg, and explored possible partnerships between the international logistics players in Hamburg and in Colombo.

The AHK Delegation of the German Chamber of Commerce and Industry, which is the local office of the DIHK in Berlin, played a key role in organising this visit. Most noteworthy was that German Chambers of Commerce hosted the trade and investment forums in each of the three cities, signalling a keen interest in Sri Lanka from the German private sector.