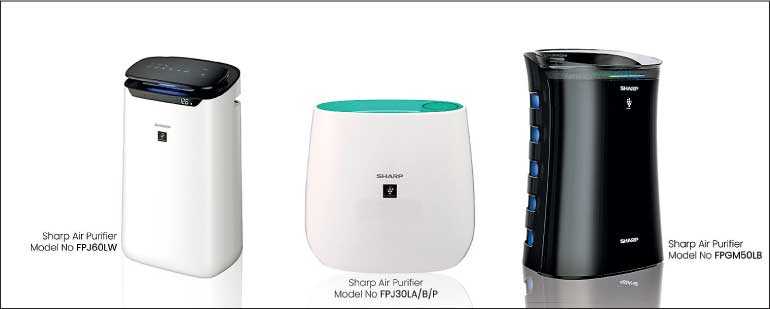 The Metropolitan Group is constantly diversifying its product range and now offers Sharp Air Purifiers which come with its own unique patented Plasmacluster Ion technology.

In a time when organisations in any industry are looking at means and options to ensure the safety of their employees as business activities resume, the Sharp range of air purifiers offers an added layer of protection.

The Plasmacluster Ion technology engineered and patented by Sharp is the recipient of the prestigious Invention Prize at the 2008 National Invention Awards Ceremony held by the Japan Institute of Invention and Innovation (JIII).

"Unlike basic purifiers that come with air conditioning units, the Plasmacluster Ion technology will actually act on harmful viruses and bacteria which other purifiers are not capable of," Head of Corporate Sales Hasalaka De Silva said.

He further added that given the current economic conditions when operations are being scaled down and employees have to work in close confines, or in industries such as hospitality or the medical industry, the Sharp Air Purifier offers an added layer of protection by removing of contaminants such as germs, viruses, dust, mould and more.

Another plus side of Sharp's Plasmacluster Ion technology is that by mimicking nature, this technology produces positive and negative ions by using water vapour in the air which actively attach to pollutants and break down their surface before returning to air as water vapour.

In addition, the safety and effectiveness of the Plasmacluster Ion technology is certified by 31 Global Test laboratories.

The Metropolitan Group, having recognised the urgent need to have businesses up and running, have launched the Sharp range of air purifiers to support internal working environmental health solutions. The devices can be purchased online at www.mcentre.lk and home delivery can be arranged as well.

The Group through its subsidiary companies has its footprint entrenched in almost every industry sector in the country. More recently, Metropolitan Computers, the IT arm of the company, sought a more one-on-one approach with its customers and launched the mCentre as a one-stop IT hub.

Since launching, mCentres have expanded to more than 12 locations across the island in a bid to better serve its customers and now are catering to customers online through its e-commerce platform www.mcentre.lk.