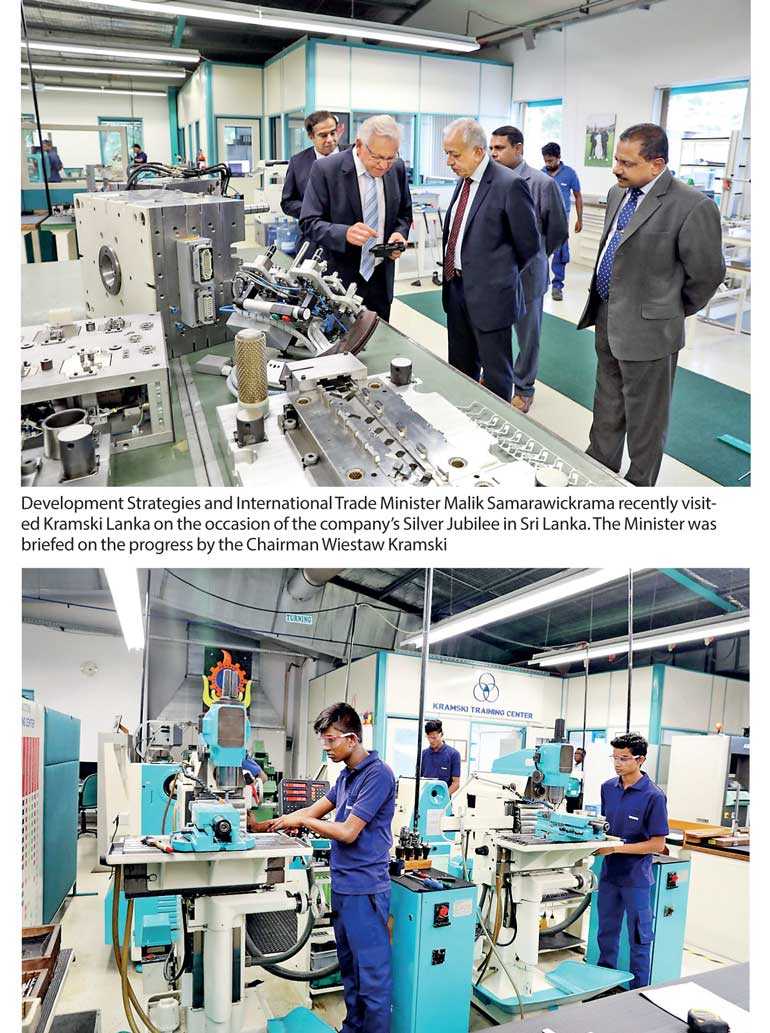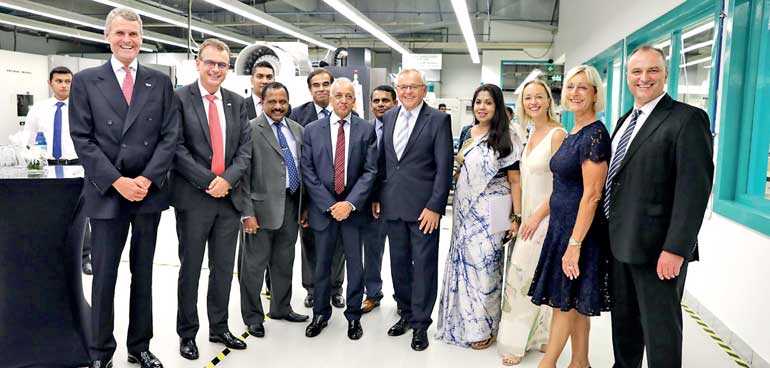 Minister of Development Strategies and International Trade Malik Samarawickrama visited the high tech German engineering manufacturing plant Kramski Lanka Ltd. at the BOI's Katunayake Export Processing Zone.

The German enterprise was established in Sri Lanka in 1993, and has been engaged as a BOI project in the designing and manufacturing of advanced products utilised in complex engineering processes. Kramski Sri Lanka is celebrating its Silver Jubilee in Sri Lanka.

Kramski Sri Lanka Ltd. is part of the Kramski Group which is a German enterprise with branches in Pforzheim, Birkenfeld and Karlsbad in Germany, Largo in Florida, USA, and Vellore in Tamil Nadu, India, in addition to Sri Lanka.

Kramski Lanka Chairman Wiestaw Kramski, Vice President Renate Kramski, Managing Director Andreas Kramski, General Manager in Sri Lanka Andre Rapp, Kramski Marketing And IC Executive Sabine Torres represented the company during the Minister's visit. In addition, Consul General of Germany (Mumbai) Dr. Jurgen Morhard and Indo-German Chamber of Commerce (Mumbai) Director General Bernhard Steinbrucken were also present

Minister Samarawickrama was assisted by BOI officials Executive Director (Zones) M. K. D. Lawrence, Executive Director (Investor Services) Mahinda Ramanayake, Director (Promotion) Nilupul De Silva, and Director (Media & Publicity) Dilip S. Samarasinghe.

The parent company, Kramski GmbH Pforzheim, was founded in 1978 by Wiestaw Kramski. The Sri Lankan subsidiary Kramski Lanka Ltd. was established on 9 June 1993 with a share capital of Rs. 100 million. It currently employs 350 staff and has projected sales of EUR 14.3 million.

Reflecting on his company's Silver Jubilee as an investor in Sri Lanka, Wiestaw Kramski stated: "Today, after 25 years in Sri Lanka, I want to extend my sincere thanks to the people and organisations that have helped us to follow this prosperous path in Sri Lanka."

He added: "The Board of Investment (BOI) was a great help. The location in Katunayake in the Free Trade area, Phase III, was the right decision, as we have especially good conditions in this area close to the airport."

Kramski produces components for many German and international brands including Blum, Bosch, Delphi, Roche andSumida. Kramski's products include combining connectors, tubes, springs, flat connectors and many more. The company is also involved in research and development, product development, product design and process development.

In addition to this the Kramski Group is engaged in prototyping, including laser cutting, stamping and bending, overmoulding and laser resistance welding. The technologies involve design and tool-making such as stamping dyes and mould design samples.

Kramski is also involved in machining, including the manufacture of parts that involve various types of carbide and steel.

The visit by Minister Malik Samarawickrama on the invitation extended by Wiestaw Kramski involved familiarisation with some of the products made by the company.

In 2007, Kramski Sri Lanka opened its own training centre. "Up to now, 86 young people have passed our training course. At the moment, we have 20 apprentices," said Kramski. The training course lasts 2 years and includes lodging and pocket money in addition to the regular company benefits.

Kramski showed the Minister and the visiting BOI delegation the apprentice training centre at the Katunayake plant of the company.

The visit also included one to the modern store room. Kramski stated about EUR 2.5 million worth of raw materials are stored under the best possible conditions to be used in the process of manufacture.
To celebrate its 25 years, Kramski Lanka honoured three of its longstanding employees who had been with the company since its inception in Sri Lanka. The German company also donated sums of money to the Ceylon German Technical Training Institute, and also to several charities in the country.

The visit to the factory in the Zone was an opportunity to see one of most advanced enterprises currently in Sri Lanka which maintains very high standards of manufacture and is a leader in technology.