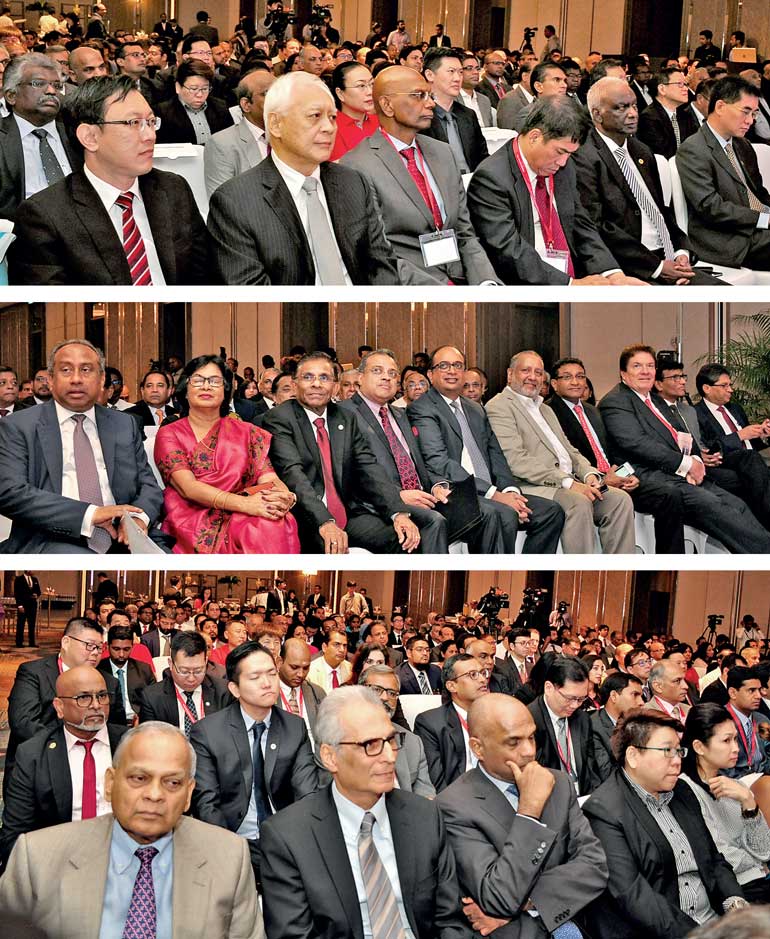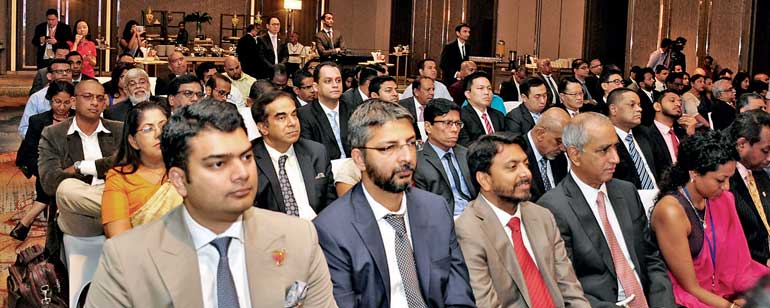 By Charumini de Silva

The Government is forging ahead with a 'Look East' strategy to boost Sri Lanka's exports, whilst sustaining traditional markets. Addressing the Sri Lanka-Singapore Business Forum organised by Ceylon Chamber of Commerce (CCC), Development Strategies and International Trade Minister Malik Samarawickrama tipped that the Government would soon sign comprehensive Free Trade Agreements (FTAs) with India and China to leverage on Sri Lanka's location and expand market access.

Asserting that the Singapore-Sri Lanka FTA was part of a broader strategy of the Government looking East to renew trade relationships, he said this FTA was the first agreement inked with a South East Asian country. "This agreement is an important part of the new National Trade Policy launched last year and is a linchpin in the ongoing trade policy reforms. We envisage this as a first step towards closer integration with ASEAN, and potentially be part of the Regional Comprehensive Economic Partnership (RCEP) in the future," he added.

RCEP is a proposed FTA between the 10 member states of the Association of Southeast Asian Nations (ASEAN) and the six states with which ASEAN has existing Free Trade Agreements (Australia, China, India, Japan, South Korea and New Zealand).

He said signing the FTA with Singapore, a country regarded as one of the most open and liberalised economies boasting high-quality institutions, was an important milestone for Sri Lanka. "This signals the commitment of our Government to usher in an era of openness for Sri Lanka and become a formidable economic hub in the Indian Ocean," he emphasised. He said the focus of the Government was to shift the economic growth model from one that was heavily dependent on debt-fuelled public infrastructure spending to growth-driven private enterprises, exports, and Foreign Direct Investment (FDIs).

To complement seamless trade facilitation, he assured that the Government was committed to domestic reforms to make Sri Lanka internationally competitive.

"We are working closely with International Enterprise Singapore to help forge bilateral investment linkages. Moreover, International Enterprise Singapore and the Temasek Foundation are working with our Export Development Board (EDB) to benchmark good practices and impart valuable lessons on how to enhance our services to exporters," he added.

Highlighting the new Logistics and Industrial Zone in Hambantota which is being developed with Chinese investment, he said three other industrial zones were also being setup and one of them was in partnership with Rojana Corporation of Thailand. "We expect a lot of investor interest in these. We invite Singaporean firms to invest in these zones and to do business to access the South Asian region and beyond. It is now an opportune time to take our partnership to new heights," he stressed

The Minister told the investors from Singapore that Sri Lanka had GSP+ trade concessions to the European Union (EU) as well as the ongoing trade and investment framework agreement with the United States and Australia, from which they could benefit by investing here.

On the exports front, he said the Government would launch the National Export Strategy (NES) next month with a focus on competitiveness and diversification.

"The aim is to build more export brands from Sri Lanka, ranging from high value and high quality food and beverages, leisure boats, IT services, and electronic components," Samarawickrama said.

Further the Minister stated a new national Innovation and Entrepreneurship Strategy would be launched soon, which would have programs to support technology upgrading, startups and collaborative innovation.

Samarawickrama acknowledged that the Government was fully aware that without a focus on these areas Sri Lanka could not go from middle income to high income, like what Singapore managed to do.

Pic by Lasantha Kumara
---
Singapore Minister commends Sri Lanka
Singapore Trade and Industry Minister S. Iswaran yesterday said the signing of the Free Trade Agreement (FTA) with Sri Lanka opened up a new chapter in the two countries' bilateral trade and investments, insisting he believes it would reach greater heights.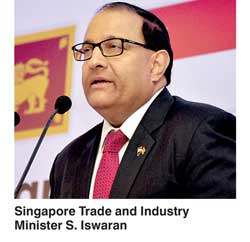 The Minister also stressed that it was a clear indication of the Sri Lankan Government's determination to connect with global markets to ensure growth for local business and its people.

"We had very ambitious timelines set by the two Prime Ministers on the FTA. Although the deal was supposed to be finalised in June last year, it came to a completion merely one and half years later. It is a testament to the commitment of both countries," Iswaran said at the Sri Lanka-Singapore Business Forum organised by the Ceylon Chamber of Commerce (CCC) yesterday in Colombo.

He said the Sri Lankan importers will benefit from low custom duties, while consumers will enjoy a wide range of high-quality products. The professionals of both countries will also benefit by providing various service sectors through the FTA. In addition, Iswaran said that the Government procurement chapter and investment chapters will help to attract increased investments. Highlighting that bilateral trade has already seen significant improvement, Iswaran said in the year 2016 to 2017 the trade increased by 25% to Rs. 300 billion.

There was also an upward trend seen in the service sector. "We hope the trade and investment momentum will continue as more Singaporean companies explore opportunities in Sri Lanka in growth areas such as hospitality, consumable goods, FMCG, aqua culture and infrastructure," the Minister emphasised. It was pointed out that Sri Lanka is also an attractive market for Singapore SMEs. "Attracting large companies through FTAs are normal and is expected, but SMEs to come forward is significant. It means that they are comfortable and see opportunities," Iswaran noted.

The Minister also visited a boutique hotel and a mixed development, two investments from Singapore coming up in Colombo.