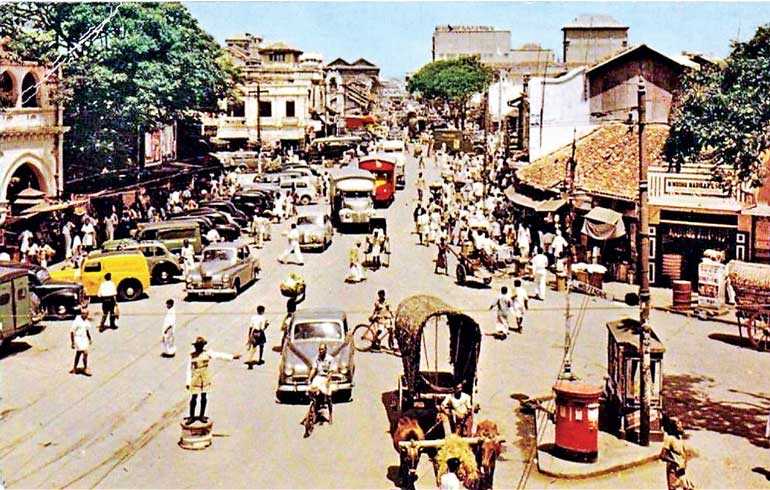 The Gas Paha Junction over the years
---
The Gas Works Street and the Gas Paha Junction (Gas lamp post with a cluster of five gas lamps) still stand as a unique part of Colombo's historic legacy. From powering the first gas lamps ever to be installed in the country to building an inimitable footprint in the Sri Lankan energy sector is a daunting task spanning over 150 years.
For Litro Gas, it has been a significant journey that defines the growth of the LPG sector in the country.

The country's premier supplier of LPG stands tall as the key stakeholder of the transformation that led to the utilisation of LPG as a mainstream energy source. Back when gas lamps were the norm and gas-powered tram cars were a common sight, the Ceylon Gas and Water Co., precursor of Litro Gas, managed what was then a highly developed network of LPG supply in the city of Colombo, delivered up to Ratmalana.

Throughout the years, Ceylon Gas and Water Co. went through many phases of growth which culminated with the entry of Royal Dutch Shell – Shell Gas Lanka as a globally recognised world leader in energy. With it came access to global knowhow and expertise that would benefit the LPG industry in the country.

In 2010, when Litro Gas came into being, the market was ready for exceptional growth and expansion.

"Litro Gas has a unique legacy that has been a part of Sri Lanka's history during 150 years of its journey," says Litro Gas Lanka Ltd. Chairman and CEO Anil Koswatte. "That legacy has been an integral part of Sri Lanka's energy history, establishing LPG as a mainstream energy of choice for Sri Lankans."

"Throughout the years, we have experienced a steady growth, managing to keep our prices competitive, passing on a great economic benefit to our customers – even when global LPG prices have risen. We have maintained our value proposition to customers while delivering on our pledges to our stakeholders."

"As underlined in the 'Vistas of Prosperity and Splendour' presented by President Gotabaya Rajapaksa and in keeping with the directives of the Presidential Task Force to uplift the living standard of the people, ensuring that the price of essential commodities such as LPG is stabilised is a key area to be considered," he adds.

The household use of LPG broad based around 32 years ago – an increased demand for LPG in the country set the stage for Litro Gas to emerge as the national LPG provider.

Litro Gas maintains a robust and a seamless service of supply throughout the island; along with the Company's state of the art storage and filling facility at Kerawalapitiya which is recognized as one of Asia's largest filling plants. Litro Gas also operates a cylinder refurbishment, cylinder requalification and bulk customer LPG delivery hub in Mabima, Sapugaskanda. Further, the Company manages a storage facility in Hambantota, giving it an edge in managing an efficient system of LPG delivery across the country.

The Company owns a network of 42 distributors, approximately 14,000 point-of-sale locations and 1,500 home delivery hubs who meet the energy needs of the country.

Today, Litro Gas plays a key role in fuelling the country's economic drive as the leader in the LPG sector with over 76% market share. The company generates a turnover of Rs. 45 billion, providing LPG for over four million households across Sri Lanka while powering up commercial and industrial sectors as well.

Driven by innovation, Litro Gas Lanka launched a specially designed Home Delivery Mobile App that enables customers to connect seamlessly for their gas deliveries – an easy four-digit helpline (1311) for island-wide home delivery has also been introduced which benefits customers to meet their LPG requirements conveniently and swiftly.

Paving the pathway for the growth and expansion of LPG in Sri Lanka has been a historic achievement, one that has evolved over 150 years. The Litro Gas journey continues, says Koswatte, to a future of unlimited possibilities.