Lanka IOC PLC Managing Director Shyam Bohra has completed his tenure in Sri Lanka and will be moving back to the parent company Indian Oil Corporation.

Bohra took over as the head of Lanka IOC in 15 September 2015 and has been responsible for bolstering the brand's image and presence in Sri Lanka. In a challenging, competitive market, he helped the company to not only grow in all segments but also expanded the reach beyond Sri Lanka to countries like Qatar, Maldives and Indonesia.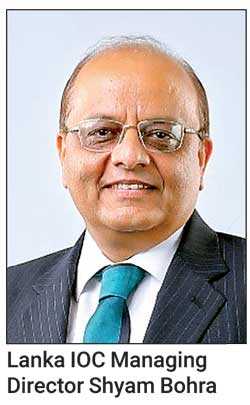 Under his leadership, Lanka IOC commenced bunkering operations at Trincomalee, which strengthened the presence of the company as a dominant player in the segment. Despite stiff competition from multinational corporations (MNCs) and local companies, the market share of other products also improved significantly.

During his tenure, he actively pursued the implementation of a pricing mechanism for auto fuels, which was implemented on 18 May 2018. He also took many initiatives and worked on strategies which helped the company in recording strong performance despite challenges and adverse market conditions.

Shyam Bohra is a Board member of CPSTL and also served as President of the Indian CEO forum, an elite body of Indian heads of MNCs and Sri Lankan companies.

Bohra will be relocating to Delhi and will be joining at an elevated position as Executive Director, being in charge of two states namely Delhi and Haryana.