Taking yet another strategic step towards focusing heavily on the expansion and strengthening of its LPG business, LAUGFS Gas PLC (LGL), the only private sector player in the LPG market in Sri Lanka, has announced the restructuring of its non-core businesses.

LAUGFS Gas PLC will consolidate its LPG downstream activities in Sri Lanka and Bangladesh, LPG sourcing, LPG maritime logistics and terminal operations under one pillar.

LAUGFS Power Ltd., LAUGFS Leisure Ltd. and LAUGFS Eco Sri Ltd. will be individually listed on the Colombo Stock Exchange (CSE), subject to necessary regulatory approvals from the SEC and the CSE, consequently enabling the management of these three companies to concentrate further on developing and expanding their respective businesses by leveraging on existing market opportunities.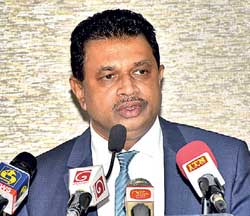 Capital Alliance Partners Ltd., a leading investment bank, assisted the restructuring process.

As a prelude to the proposed restructure, LAUGFS Gas PLC (LGL) held an investor forum for a cross-section of investors and a media briefing to communicate the strategic objectives that shaped the decision to restructure as well as the larger vision and opportunities that this process would provide to all stakeholders with vested interest in individual companies as well as LAUGFS Gas PLC as a whole.

On 28 December 2017, the Board of Directors of LGL approved the restructuring initiative to be facilitated via a Scheme of Arrangement and initiated the process of obtaining the necessary regulatory, legal and shareholder approvals.

The subsidiaries, LAUGFS Power, LAUGFS Leisure and LAUGFS Eco Sri, witnessed a restructuring of their shares via a share split to mirror their shareholding with LGL's shareholding structure. As a part of the segregation process, all the shareholders of LGL will be entitled to an identical shareholding in the individual companies, thereby ensuring that they do not lose value as a result of this process.

Once the segregation is completed by 31 March as expected, all different entities will be in a position to operate as independent entities from the financial year commencing 1 April.

Commenting on the larger strategy behind the restructuring, LGL Chairman W.K.H. Wegapitiya stated: "In view of the strategic expansion drives that are already taking place in each of these sectors and in particularly in the LPG sector, we wish to allow a broader growth expanse to each company and strengthen focus on developing each individual business segment through concentrated efforts and resource allocation. The restructuring process will empower management of each business sector to focus more on performance enhancement of their respective businesses which in turn will create more value for the LAUGFS Group. This aligns well with the LAUGFS approach and culture of exploring opportunities beyond the ordinary and reaching our full potential. Ultimately, this move will enable each business sector to reach their full potential and create enhanced value for our shareholders. We are confident that this move will attract favourable interest of both local and foreign investors."

The strategic restructuring process is likely to create an avenue for greater inflow of FDI, for each business segment by encouraging regional investors that look to invest in individual and focused business ventures as opposed to diversified businesses, especially unrelated diversification.

The management of LGL believes that the LPG business in particular will benefit from the restructuring process by attracting foreign strategic investors with specific knowledge in the energy segment.

LGL's core business interest mainly consists of the LPG downstream activity which has been actively pursuing a regional expansion drive with the established extension into Bangladesh as well as the ongoing extensions to Myanmar and Maldives. LGL through its subsidiary LAUGFS Terminals has already extended its dominance in the LPG sector through moving mid-stream by investing in the setting up one of the largest LPG Import and Export Terminal facility in South Asia with a 30,000 MT LPG storage capacity, scalable up to 45,000 MT, at the strategically located Hambantota Port.

LGL's LAUGFS Maritime provides maritime energy logistics support, operating its own fleet of LPG vessels, while SLOGAL Energy DMCC operates LAUGFS's energy trading businesses headquartered in Dubai.

Moreover, the proposed restructuring will clear the path for interested parties including fund managers, individual investors as well as the country as a whole to explore development opportunities in the leisure and renewable energy sectors as LAUGFS continues its journey of success on an upward trajectory.