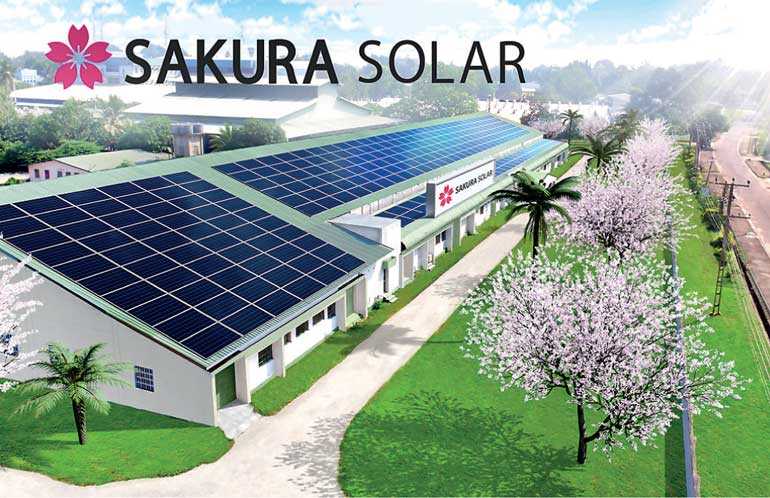 Sri Lanka will turn a new chapter in its renewable energy sphere tomorrow with the opening of the production facility of JSF Corporation in Katunayake, the country's first manufacturer of solar panels. The Japanese Sri Lanka Friendship (JSF) Corporation brings an investment of Rs. 5 billion from Japan via the Board of Investment and will serve as a cornerstone of the Government's program to infuse capacity from solar energy into the national grid from 2020 and beyond.

Sri Lanka presents ideal opportunities for the growth and deployment of solar energy given its positioning, but over the past two decades 'solar' has been deemed a luxury item given the high investments required.

Solar panels have always been imported to Sri Lanka and are attached with a number of significant costs that render it a long-term investment, placing them out of the reach of average Sri Lankans and even institutions, whereby solar remains a huge untapped source of clean energy. JSF's venture will shift Sri Lanka's prospects in renewable energy with wide-ranging opportunities both here and overseas as the company will manufacture and market solar panels, inverters and LED lighting solutions under the brand name Sakura Solar. Due to its local base, Sakura Solar will provide significant cost savings and service solutions over other imported products in the market, backed by a 35-year warranty and cutting-edge Japanese technology.

JSF is a wholly-owned subsidy of REK Co. Ltd. in Japan and will serve as a one-stop shop for renewable energy solutions all over the world. Its factory, opening tomorrow, is based at the Katunayake Export Processing Zone, and 80% of its produce will reach markets in Europe, the US, the Middle East and other regions. JSF's affiliated companies include REK, EIWAT Co. Ltd. and Crover Trust (Hokkaido) Ltd. which are reputed Japanese leaders in the alternate and renewable energy sector at both home and around the world. These companies have engaged in numerous large-scale corporate and government renewable energy projects around the world, including PV, wind, small hydro and geothermal generation. In Sri Lanka, Sakura Solar has already added 500 kilowatts of solar power to TDK Trade Links Mulleriyawa, the Devonia Tea Factory in Deniyaya, the Sasakawa Centre in Colombo and many other medium to small-scale projects islandwide.

JSF's production facility at Katunayake has an annual average production output capacity of 200 Megawatts. It is noteworthy that under the 'Sooryabala Sangraamaya' program of the Ministry of Power and Renewable Energy in Sri Lanka, the Government aims to add 200 Megwatts of solar power to the national grid by 2020. The Japanese company will employ its state-of-the-art technology and service solutions in Sri Lanka, whilst production will commence under the supervision and guidance of renowned Japanese technicians.

Director and CEO Pushpasiri Liyanage will be at the helm of JSF's operations in Sri Lanka, and it is Liyanage who is responsible for attracting this groundbreaking investment into Sri Lanka. "With Sakura Solar we are reinventing Sri Lanka's position on renewable energy. There is a wealth of untapped potential in the island and our technology will provide great benefits to the local industry. Alongside that Sri Lanka will serve as a springboard for Sakura Solar to service regional markets," Liyanage avers.

JSF's mission is to become a leader in the global drive towards sustainable energy, and Sri Lanka will reap multiple benefits from this Japanese investment. The company is currently the only BOI-approved institution with an agreement spanning 55 years in the renewable energy sector of Sri Lanka. The first and currently only solar panel manufacturer in Sri Lanka, JSF and Sakura Solar offers a 35-year generation warranty on all products locally and is the only company to offer insurance on installation and product performance, plus the only company in Sri Lanka to offer 24-hour after-sales service.

"Quality and effective service are two key focuses at Sakura Solar, whereby our valued clientele both here in Sri Lanka and overseas can rest assured of high performance systems, backed by decades of valuable Japanese expertise in the industry. We aspire to become much more than a service provider, we want to lead a local and global transformation on how renewable energy solutions are perceived and deployed," asserts Liyanage.

The directors at JSF include LIyanage and its Chairman Hirokazu Murata, Masaaki Shibata, Yasuaki Horiuchi, Yoshinori Kagomoto, Masahiro Sunahata and Shintaro Fukuzono, who are stalwarts of Japanese enterprise and the renewable energy sector in the country, leading numerous large-scale solar projects in Japan and other regions.

JSF will have its Sri Lankan head office in Bambalapitiya and office in Osaka, Japan. As part of its global expansion, REK initially looked at setting up operations in Vietnam, Bangladesh, Laos, Indonesia, etc. and Liyanage is credited with diverting that investment into Sri Lanka at a time when the country is in need of foreign direct investments and exchange savings to achieve its development targets.

JSF will commence operations at the Katunayake Export and Processing Zone tomorrow under the auspices of Power and Renewable Energy Minister Ranjith Siyambalapitiya, Japanese Ambassador to Sri Lanka Kenichi Suganuma and State Minister Ajith Perera. The company will provide employment to over 200 Sri Lankans who will receive extensive training and technical expertise from Japanese technicians who are in the country. JSF is also looking at collaborations to enhance and establish cell manufacturing and is confident of attracting investments into this sphere whereby the complete process would become vertically integrated. In January this year JSF entered into a partnership with Schneider Electric for an authorised dealership in Sri Lanka.

The JSF investment will provide significant impetus to the Government's 'Sooryabala Sangraamaya' (Battle for Solar Energy) program, which is done in collaboration with the Sustainable Energy Authority and the Lanka Electricity Company, to promote setting up solar power plants at domestic and commercial establishments. As alluded to before, the program aims to add 200 Megawatts of solar energy to the national grid by 2020 and 1,000 Megawatts by 2025. JSF and Sakura Solar will offer a wide range of solutions to the Government and consumers to fast-track this project towards a greener and sustainable Sri Lanka.

"JSF is an association of several leading global players in the alternate energy sector and we will be relentless in our effort to accelerate the adoption of renewable energy solutions all over the world. Whilst we are confident of success in this endeavour, as a Sri Lankan I stand proud that our country will serve as a springboard for this global revolution for generations to come," Liyanage said.