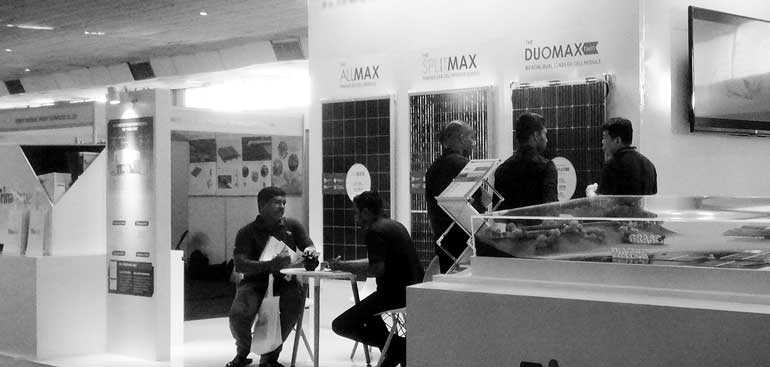 Launch of Trinahome at Solar Show 2018


Trinahome Team of JLanka Technologies
JLanka Technologies, the foremost solar solutions provider of the country seals the deal with Trina Solar as its main distributor for the Trinahome within the Sri Lankan market.

The growth in solar power within the country affirms that Sri Lanka is well on its way to meet the country's current and future electricity demand through the utilisation of smart renewable energy and JLanka Technologies has played a major role in this achievement.

JLanka Technologies broadens their array of products when they bring to you Trinahome. Solar power like never before, in an all-inclusive package. This package contains everything from the solar panels to the inverter, gridbox, mounting system to every nut and bolt that you will require in assembling this. Apart from simply introducing this new product to their expanding customer-base they've taken the effort to learn from the group at Trina Solar and specialise in the installation of the Trinahome on your homes. JLanka Technologies is well known for providing a complete and fulfilling service to all their clients. They intend to bring this finishing touch to the Trinahome product as well.

"Trinahome is available at all our island wide outlets, ready for purchase and installation by our stand by Trinahome Team. Upon purchasing of this product JLanka Technologies' very own Trinahome Installation Crew will install Trinahome for you. Trinahome as it appears is a residential based product offered to you in 1.5kW, 3kW and 5kW. We are expecting a 10kW one as well. Eagerly awaiting on our dear customers to join us in gaining from this innovation and pave the way for Sunlight to power your homes all the while brightening the future for your little ones," commented JLanka Technologies Operational Director G. Jayasoma.

Since its inception in 2010, JLanka Technologies has reinforced its presence as an impactful energy technological entity as the premier solar solutions provider in the country with a longstanding reputation for quality and unmatched service in the industry. Well-equipped with an inherent capacity for innovation and close trade relationships with global solar industry giants such as Trina Solar, SolarEdge, JLanka Technologies has been providing solar power solutions to hundreds of homes and businesses throughout the country.

The company continues to demonstrate its integral inventiveness and commitment to technological progress through heavy investments in research and development on optimising home rooftop Solar PV systems in order to maximise solar power generation and intelligent smart Solar Grids as well as Energy Management Software and Metering. According to company officials to date, JLanka Technologies has installed 3750 Solar PV systems to generate over 32MW of electricity, with the contribution of 55GWh of energy to the national grid.